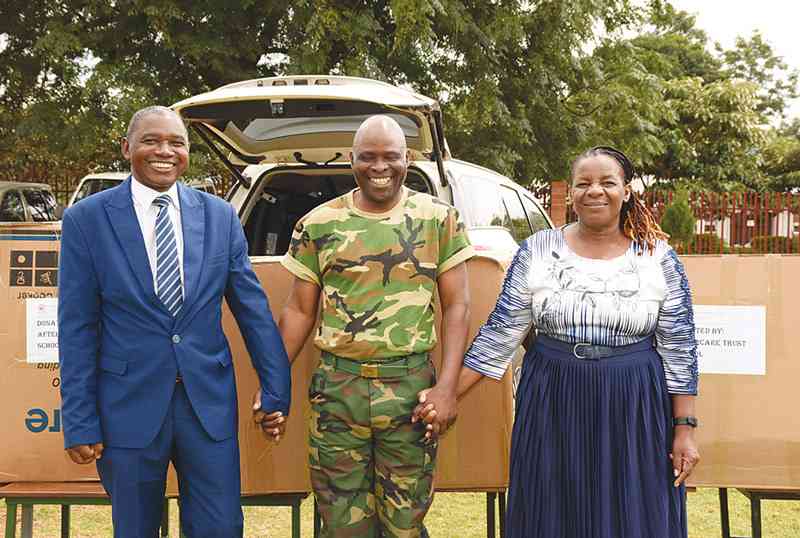 ALTHOUGH there is much happiness in receiving love, there is even greater happiness in giving or showing love to others.
The trail of destruction caused by Tropical Cyclone Freddy in Malawi touched the hearts of pupils at Aftercare Trust School in Harare, and in the spirit of ubuntu on Thursday they donated some clothes and groceries to the victims.
The cyclone's landfall destroyed homes, roads and crippled the national power grid, with an estimated 367 929 people mostly children internally displaced.
Malawi President Lazarus McCarthy Chakwera has asked for help from the international community as he described the aftermath of the cyclone as one of the darkest hours in the history of that nation.
The donation from Aftercare Trust School was handed over to the Malawian embassy in Zimbabwe.
Aftercare Trust School is owned by former National Arts Council of Zimbabwe executive director, Elvas Mari and wife Meria who are both educationists by profession.
Speaking at the handover ceremony, Aftercare Trust School co-director Meria said the donation was a gesture initiated by the pupils.
"Our pupils deriving the gesture from the meaning of our school's name and in the philosophy of ubuntu/hunhu, have decided to give something to their sisters and brothers in Malawi who have been affected by the devastating Tropical Cyclone Freddy."
"Aftercare Trust School in the Belvedere suburb close to the Zimbabwe Agricultural Showgrounds opened its doors in 2013 as an after school care programme where pupils from various schools would come and do homework and other educational activities while waiting for their working parents to come and pick them up."
"This concept was well received and the enrolment to the programme was overwhelming. We then applied for land from the City of Harare which we got it. Aftercare Trust School is now a primary school registered with both the Ministry of Primary and Secondary Education as well as Cambridge."
Aftercare Trust School board chair Mari (Elvas)
"Malawi and Zimbabwe we are one country, you will be pleased to know that even in this school we have Zimbabweans that originally come from Malawi. If we go to Malawi today, there are so many Zimbabweans who are now Malawians and we have married and are married, and we have exchanged so much that to distinguish a Malawian from a Zimbabwean by mere looking is not possible.
"So, when Malawi was affected by this natural disaster (Tropical Cyclone Freddy) we were immediately also affected, so your problem is our problem. As Aftercare Trust School, from the name we care and we were not surprised when our pupils came to request that we needed to do something small as it is, but hopefully we believe it will make a difference. All this was hard work from our pupils and parents."
Poems
During the donation ceremony, the pupils took turns to deliver some messages of hope through various poems much to the delight of the guests. Among the poems narrated was a climate change-themed poem recited by Rufaro Mutengwa, David Murwisi, Ronald Jackson, Tawananyasha Nyanhete, Tawananyashe Dure and Maitaishe Mutuwa.
Behind We are One, a peace-themed poem that chronicled the harmony between Zimbabwe and Malawi citizens was Ropafadzo Nyamaponda, Kuzivakwashe Charangwa and Emmanuel Banana.
Head prefect Mitchelle January's message
"As learners we then came up with this initiative and with the guidance of our teachers and administration it was a success. I would like to thank learners of Aftercare Trust School for coming up with this initiative, following it through and successfully persuading their parents to lend a helping hand."
"I would also like to offer my gratitude to our parents who are represented here by Budwell Nziramasanga for allowing us to make a difference in this world, and lastly our school administration for facilitating this day and the constant encouragement. I will leave you with the famous wise words of Anne Frank: "No one has ever become poor by giving."
Malawi's acceptance message
In his acceptance speech on behalf of the Malawian ambassador to Zimbabwe, Malawi's defence attaché Colonel Pethias Mdoka applauded Aftercare Trust School's pupils for their generosity.
"I acknowledge the receipt of this donation you have given to your brothers and sisters in Malawi will go a long way. They are suffering. Two years ago, if not three years, you have heard of what happened in the eastern part of Zimbabwe, Chimanimani. That situation is what has happened in Malawi. It is the first time in the world's history that this cyclone has lasted more days and in Malawi it has been there for almost a week."
"Some of your sisters, brothers and parents in Malawi have died or disappeared, that is the situation. Some of them have survived, but all their belongings, their books, pens, shoes, even their uniforms have been lost. So today you are responding to their basic needs.
"You have provided the clothes, some will put them on as they go to school and they will always be remembering you. Remember you are the leaders of tomorrow, and if you will be meeting, it will be a history and they will not know it has been you, but they will say we got the support from Zimbabwe."
"Also let me acknowledge and appreciate the messages that you delivered through various poems that you gave us. Indeed, it is a touching message looking at the moment, with Malawi, you are brothers and sisters.
"Recalling on the other message you gave on the change of climate, it is really affecting us the way the climate has changed. On the other hand, let's also look on our side at how we are contributing to climate change.
"I have all the hope that your teachers have sensitised you on what is really affecting the climate, what we contribute. So, my message to you pupils is how we can do about this change, how do we avoid this change.
"We have a national tree planting day, during this day we are encouraged that we must plant trees and this is one way of dealing with climate change."
Follow us on Twitter @NewsDayZimbabwe
Related Topics