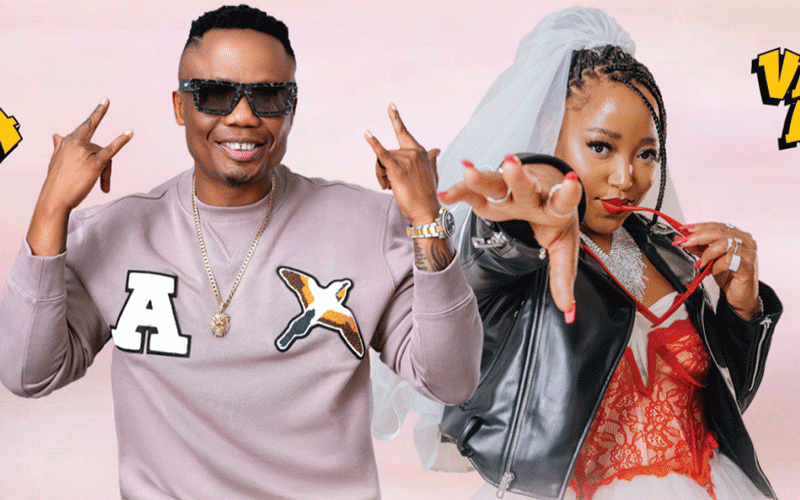 UNITED KINGDOM (UK)-BASED Zimbabwean Afro-pop songbird Valee Music has roped in the services of South African DJ, record producer and kwaito artiste DJ Tira on Ng'cabanga Ngawe (Thinking about You), her latest song that hits the market today.
Born Valerie Menyiwe Sibanda in Bulawayo, the songbird, who relocated to the United Kingdom at the age of 14, has continued to make inroads into the cut-throat music industry.
She reckons that being multilingual, she sings in English, Ndebele, Zulu, Shangaan, Sotho and Shona, has enabled her to penetrate the international music market, resulting in her collaborating with several top artistes.
She has worked with American singer Beyoncé on the song Black is King as well as the late Michael Jackson's producer Ian Copeland Green.
For her latest love-themed song, she engaged Prince Bulo, another mega star who is a multi-faceted bass player, musician, producer and wheelspinner to add the Midas touch to the production side.
"I am excited about this Ng'cabanga Ngawe collaboration between Vale Music and Afrotainment. What also makes this song special is the classy and timeless feel it has," she told NewsDay Life & Style.
"Through the song, I have fully captured my Afro-pop roots, a sound that produced my previous hits like Watora Moyo and the Afro RnB record Sondela that features Charlie Kay which went on to become number one on Gagasi FM for seven weeks."
The songbird said it had been such an honour and amazing experience working with the celebrated DJ Tira, born Mthokozisi Khathi.
"How the song came about, I was in South Africa doing some music business, networking and that was the time I was also shooting my video for the song Mali. When I was thinking of all the artistes I would want to work with in my next project while I was still in South Africa, I thought of DJ Tira whom I had met before in London.
"So, I called and told him that I was in town and wanted us to work. He was so nice and easygoing as he invited me to come to Durban. I flew to Durban and made a few jams and we absolutely loved this one collectively."
She continued: "I think it took me about a year before I fully approved this track as I wanted to make sure it sounded the way I really wanted it to be like. This is my lead single for this year featuring the talented legend, DJ Tira."
"What a great way to start off the year, I am super grateful. I think what my fans, followers and listeners can do for me to show some love to this international song that has two superstars, DJ Tira and your African Queen is to send us some Tik Tok, some reels using this song whether you are cooking or putting up some make-up or cooking, I would appreciate.
She said soon after the release, the song would be readily available on all digital platforms like Spotify, Boomplay, iTunes and Amazon Music.
Valee Music said her compositions were inspired by her life experiences and everything that she is, a Christian, black, African-Zimbabwean, Nguni woman and Londoner.
"I feel like all my experiences in life from love to faith, friendship, culture and travel have helped to shape my music. I am also influenced by my peers that I work with," she noted.
As she continues to showcase her musical ability, Valee Music has performed on big stages such as the annual Zimfest Live (one of the biggest African festivals hosted in London) and she made history when she became the first southern African singer to perform at the first-ever Afro Scandinavian Festival in Sweden.
Last year, she was named one of the top 15 creatives and entrepreneurs to look out for by GQ Magazine and Glamour Magazine.
In recognition of her works, she has been nominated for several awards such as the Global African Awards under the Female Artiste of the Year (2022), Zambia's Zikomo Africa Awards under the Best Up-and-coming Artiste of the Year (2022), Star FM's Best Song by an Artiste in the Diaspora (2022) and Zim Brits Awards under Female Artiste of the Year (2023) category.
Her music is currently playing on MTV Base Africa, Trace Africa and Channel O and across Africa.
Her music has been featured on platforms such as BBC Africa, Vox Africa and Blogs in America, Canada, Kenya, South Africa and the United Kingdom.
Off the stage, Valee Music is also involved in charity work having partnered Palesa Mokoena, her award-winning South African friend and motivational speaker for the My African Dream charity project.
Through the project, they have raised funds for disadvantaged children with those in Moteti, Limpopo, South Africa being some of the beneficiaries.
Related Topics