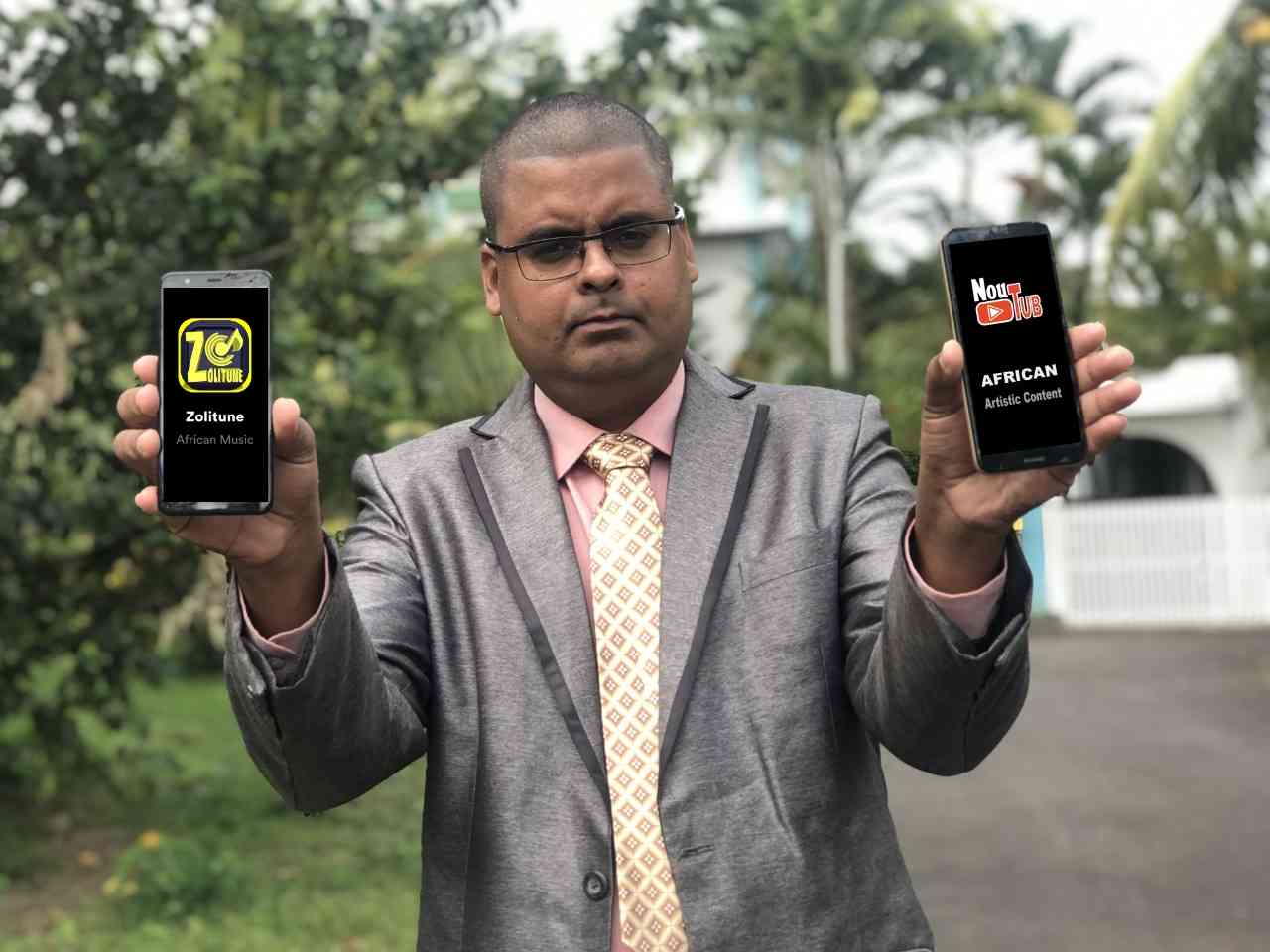 RENOWNED female sound engineer Gloria Goliath Saungweme is on cloud nine after Mauritian seasoned music and film producer, Jonathan Becherel contracted her to co-ordinate with Zimbabwean artistes as individuals or organisations to benefit from his recently launched two applications Zolitunes and NouTub.
Zolitunes and NouTub will benefit artistes, arts associations and artiste organisations in Africa as a buying and selling platforms for films, music, literal content, documentaries, drama and a lot more, while strictly restricting piracy and any other forms of unlawful acquisition of artistry.
In an interview with NewsDay Life & Style Becherel said: "In view of the difficulties that resulted after the advent of the piracy of artistic works, in view of the competition which has become more than fierce in the artistic environment, in view of the difficulties encountered by beginners and experienced African artists on foreign platforms, we have implemented a solution, that is our apps NouTub and Zolitune, are our new African distribution chains.
"NouTub works like Netflix and Zolitune works like Spotify. NouTub and Zolitune are the solutions for African artistes to make a decent living from their work."
In a letter to Saungweme, Becherel said the two applications aim to promote African art across the world through the publication of purely African content.
"Definitively it will solve the problem of piracy of intellectual and artistic works; solve the problem of tough competition on international platforms; and solve the problem related to the return on investment which international platforms are not doing enough to properly support African artists," reads part of the letter.
Becherel further explained: "Because, on the international platforms, certain African artistes, we note, enrich themselves enormously, while the minority artists, because of the a little more tightened conditions of these platforms, became impoverished following the fall of the sales of CD and DVD.
"A little analysis from us shows, for example, that to get US$1 to US$3 on Spotify, you need to get 250 streams. Which is to say that international platforms are advantageous for internationally renowned artists who are listened to by millions of fans. One can easily conclude that in this struggle and this momentum to promote African culture and show its talent, some are forced to sink with it.
He continued: "Whereas, with Zolitune, with only 10 000 subscribers paying US$1 per month, an artist can receive around US$357 per month with only 10% downloads. Imagine that if the number of subscribers reaches one million, 10% of downloads will represent US$357 000 that an artist will receive each month.
"In due course, artistes will be called to go and register their content to designated managers and distributors for Zolitune and NouTub. After orientation and registrations, royalties will be remitted to each and every beneficiary every month."
Saungweme is a self-taught live sound engineer who worked for Zimbabwe's terrestrial sungura music hits maker Alick Macheso's Orchestra Mberikwazvo for nearly six years before she became an equipment hirer and entrepreneur.
She is currently studying sound engineering at a local private academy.
"It is a great honour indeed to become a distributor for Zolitune and NouTub. I would like to encourage artists from all domains to make use of this opportunity," she said.
She challenged females to take up studies seriously so that they can demand more leadership spaces in life.
"Working with Macheso's Mberikwazvo was a welcome development in my life and together with support from my own family. I am in yet another break through, the Audio Engineering Society of Zimbabwe has helped us to share knowledge and gain strength in what we do as sound engineers and music producers," she said.
Zolitune comes as award-winning filmmaker Enoch Chihombori, the man behind the once popular Gringo series, claimed that social media plays a special role in popularising the arts, although the challenge for converting markets into sales remains a stumbling block.
Yesteryear and the new generation of artists have all lamented piracy and lack of royalty payments.
The issue of viability of usages and marketing of online spaces have always been under debate, especially during the United Nations Education Scientific Cultural Organisation (Unesco) Resil Art forums.
Zolitune and NouTub will join other online platforms like Riddim Zone and YouTube, which are monetised through the world biggest optimisation Google Ads.
A brief background check for Becherel shows that he started as a sound engineer in 2000 in Mauritius biggest recording studio at the time.
He then became a music producer, musician and musical arranger, music programmer, singer, cameraman, filmmaker, film producer, VFX supervisor and application developer on android.
He has mixed and mastered many hits in the Indian Ocean island nation. He has also shot a lot of popular music videos, and in the last five years, he has directed and released four major feature films in Mauritius.
In 2022, he launched two streaming platforms on Android application in Mauritius and on the African continent.
On July 10, 2022, he was elected by artists to sit on the new board of the Mauritius Society of Authors.
Related Topics