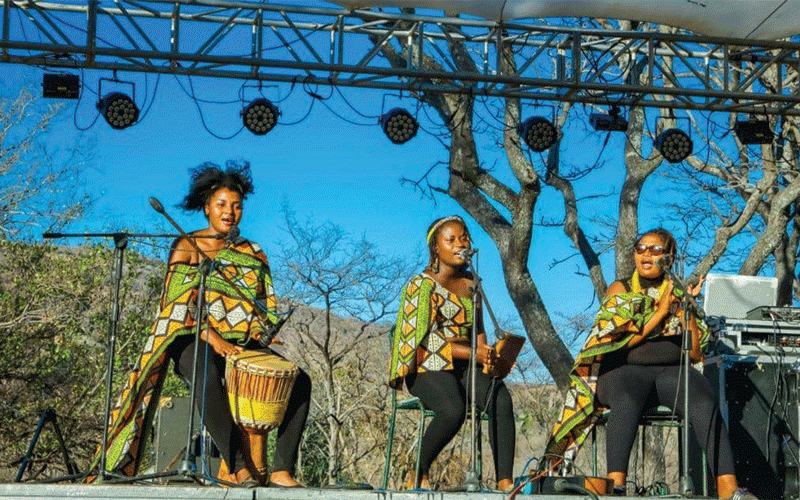 CULTURAL and ethnic music group Mazwi believes it is now ripe for the grand stage as it gears for more performances to enable it to take its music to the fans.
The all-female band is made up of Fungai Tanyaradzwa, Blessing Chinogaramombe, Chiedza Melody Tiyenga and Chipo Manyika Pasi.
Mazwi spokesperson Fungai Chinogaramombe told NewsDay Life & Style that they come from different backgrounds and were united at the Music Crossroads Academy to explore their different musical gifts.
"As for our name Mazwi, we are voices and words. Everyone brings to the table her uniqueness and thus creating a full-pack presentation suitable for all life events. Through girl child empowerment programmes, we are now capable of playing at least two music instruments, writing songs and singing," she explained.
"Traditional instruments are the foundation of our acts which range from pure traditional to mbira contemporary music and dance. We thank Music Crossroads Academy for believing in and helping us where necessary so that we can do what we were born to do."
As an advice to young girls who wish to explore their musical talents, Chinogaramombe said they should remain focused.
"Working in the arts industry has challenges, but it is not about what is trending, it is all about one's divine calling and what he or she must deliver. Never give up and be the best version of yourself in your God-given profession," Chinogaramombe said.
"It is also important for aspiring female musicians to know that the music industry is male-dominated and the world does not sympathise because one is a female. Hard work will make women stand tall and flourish in this male-dominated industry."
Chinogaramombe noted that by being part of a female ensemble, they realised that gender discrimination is still a challenge in the showbiz industry.
"Starting a new venture is never easy, there are financial challenges apart from trying to balance between work and family such that sometimes you have to work odd hours," she noted.
"Also, when you are not yet popular, people tend to undervalue your work, but we push for the best as we believe in our abilities. No matter how long it will take, we are optimistic that we will get there with time."
Despite that its music and sound have not yet been appreciated by locals, Mazwi is determined to prove itself.
"We are being undervalued for our craft. People must be able to appreciate that music performance is a profession just like being a banker or pharmacist," Chinogaramombe said.
To date, they have recorded a few singles as individuals and collectively penned close to 10 traditional and folk songs which it wishes to take to the world through live performances.
"We see our music reaching many ears, not only locally, but internationally because we have a lot to share from our rich cultural heritage. Our music addresses different social, emotional and spiritual issues for the betterment of the world.
"Through our music, we look forward to contributing to the gross domestic product of our country. We also look forward to collaborating and performing with various international artistes showcasing our cultural heritage," she added.
Chinogaramombe said they were working on a collaboration for a yet-to-be named track that will have an accompanying video.
They are motivated by their college mates Mary Anibal, and Chiyedza Tiyenga as well as their former teachers Brian Nhanhanga and Prudence Mbofana, who have extensively toured the world.
Related Topics