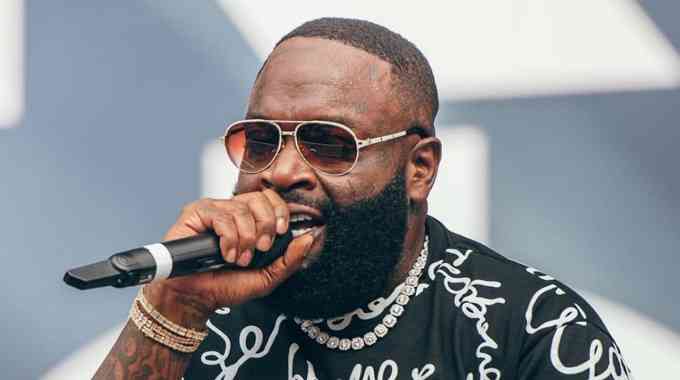 AS the year 2022 draws to a close, a glimpse into the showbiz highlights shows that for some artists the year will go down as an eventful one while the reverse is true for others.
NewsDay Life & Style takes a look at some of the major highlights worth revisiting a few days before the year ends.
Rick Ross in maiden Zim performance
American rapper Rick Ross, staged his maiden performance in Zimbabwe on November 18 at the Harare International Conference Centre (HICC) courtesy of ROAR Entertainment and local partners.
Sadly, the show was marred by confusion that left many die-hard local hip-hop fans, who had expected to witness and experience a concert of their lives, disappointed after they were forced to leave the venue before Rick Ross could take to the stage.
The multi-Grammy-nominated rapper, who was supposed to have taken to the stage at 11pm, only showed up after midnight when frustrated fans started throwing missiles in protest over his delayed performance.
Those, who waited patiently for the Hustlin hitmaker to come on stage, were also disappointed as he only performed for less than an hour.
Some local artistes like dancehall singer Nutty O, who were among the supporting acts, left as they felt they could not perform for empty seats.
Benhura receives city honour in US
Celebrated sculptor Dominic Benhura continued to put Zimbabwe on the international map after his Swing Me Higher Mama sculpture was erected in May at the corner of Main Street and Veterans Way in Carmel City in Indiana, north of Indianapolis, in the United States.
The sculpture depicts a mother joyfully swinging her child.
In addition to the erecting of the piece, Carmel City mayor James Brainard also proclaimed May 14 the Dominic Benhura Day to celebrate the Zimbabwean sculptor's career in relation to the city's cultural diversity goal.
Benhura is popularly known for his mother and child stone sculptures, which have won him international recognition.
His work has been included in many major exhibitions both locally and abroad.
Headlining acts failed to turn up for Vic Falls Carnival
Revellers, who attended this year's edition of the Victoria Falls Carnival held in April at Elephant Hills Hotel, were left disappointed after headlining acts from South Africa failed to turn up.
South Africa's multi-award-winning duo of DJ Maphorisa and Kabza De Small alongside Mzansi-based Zimbabwean songbird ShaSha failed to turn up for the grand opening show of the three-day cultural jamboree.
The festival, which showcases the best talent mainly from Africa, was making a return after a two-year hiatus due to the COVID-19 pandemic and in making its return, it was also a celebration of its 10th anniversary.
The trio was billed to perform on the opening night at the Pure Africa Sunset Cruise private show before later taking their acts to the main stage on the same night.
Guests who had travelled from neighbouring countries like Zambia, Botswana and South Africa felt robbed by the singers' no-show despite claims by the festival organisers that they had been fully paid and were contractually bound to perform.
The matter is still pending at the courts, with the carnival organisers seeking to recover their money from the artistes.
Comedienne Mai Titi's US$100k wedding in vain
Controversial socialite and comedienne Felistas Murata, popularly known as Mai Titi divorced her United States-based husband Tinashe Maphosa barely three months after an alleged flashy US$100 000 wedding held on April 9 at Royal Gates in Chisipite, Harare.
After the collapse of the marriage, Mai Titi went on to wash her dirty linen in public.
In a live video, Mai Titi blamed another controversial socialite Tatelicious (born Tatenda Zenzo Karigambe) of having contributed to the collapse of her marriage. The latter was accused of exposing Mai Titi's family secrets.
DJ Levels and Shashl sex scandal
Music producer and Chillspot Records co-founder Rodger Tafadzwa "Levels" Kadzimwe (33) and his former lover, songbird Ashely Angel "Shashl" Moyo (23) on November 27 became the subject of ridicule after their sextape and nudes found their way into the public sphere.
Shashl is daughter of former Health minister Obadiah Moyo.
As the sextape and a series of nudes went viral on social media platforms, DJ Levels attributed the leaks to a phone stolen at Pabloz VIP & Deck, an upmarket club situated at Sam Levy's Village in Borrowdale, Harare.
Shashl, however, dismissed the narrative claiming it was a deliberate act by the disgruntled former boyfriend with the intention of causing humiliation to her for breaking up with him.
Shashl, who had pressed rape and physical abuse charges against Levels, withdrew the case and only pursued cyber-crime.
Levels has so far appeared before Harare magistrate Kudzai Zihove to answer to a charge of transmitting intimate images without the consent of the complainant (Shashl) and was freed on $20 000 bail pending trial in March next year.
Macheso in historic Tinosvitswa Nashe album launch
King of sungura Alick Macheso in June wrote his own piece of history when he launched his 12th album, Tinosvitswa Nashe, at an oversubscribed Aquatic Complex in Chitungwiza.
Scores of die-hard Macheso fans braved the chilly weather, making their way to Chitungwiza to witness the album launch.
For fear of tragedy, police had to turn away some fans who had turned up for the two-in-one event that coincided with Macheso's 54th birthday celebrations.
The Madhau hitmaker proved and justified why he still carries the "King" of Sungura tag that he appears to be in no mood to give up anytime soon as he continues to set the pace and remarkable trends in music circles.
Sungura Blast that was never a blast
Organisers of the highly-publicised Sungura Blast concert held in September at the HICC were left red-faced after it turned into a monumental flop, attracting a paltry crowd.
It was, indeed, a reality check of how not to do show business for the ambitious organisers, Gateway Stream Music, a local entertainment company that is a subsidiary of Rainbow Tourism Group, which organised the show.
The price madness that saw it charging US$50 and US$20 for the VIP and standard ticket, respectively, proved to be the recipe for disaster that left the organisers owing a huge bill to artistes.
Macheso, sungura godfather Nicholas "Senior Lecturer" Zakaria, dendera crooner Sulumani Chimbetu and gifted lyricist Mark Ngwazi performed at the poorly-attended gig.
Also, part of the performers was jiti singer Baba Harare (born Braveman Chizvino Mawanza), rising Kanindo songstress Shantel Sithole and the talented Audinace Kuimba.
Model Shamuyarira crowned Universal Queen Africa 2022
Harare-based model Nomatter Shamuyarira in November raised the country's flag high after she was crowned the Universal Queen Africa 2022 in Port Harcourt City, Nigeria.
A public health researcher with the Biomedical Research and Training Institute of Zimbabwe, Shamuyarira shrugged off stiff competition from contestants drawn from 15 African countries.
This was her first international pageant appearance and as part of her winning package, she pocketed US$5 000, a trip to any African country of her choice and opportunities for brand ambassador endorsements with companies in Nigeria.
The delighted 26-year-old model, who is affiliated to Top Model Zimbabwe agency, launched her professional modelling journey in 2017 inspired by her aunt and former Miss Zimbabwe, Angeline Musasiwa.
Jikinya Dance Festival returns
The Jikinya Dance Festival, which had been on hold for the past two years due to the COVID-19 outbreak, made a return on November 11 following a recession in both new cases and deaths.
The arts industry mother body National Arts Council of Zimbabwe in partnership with the National Association of Primary School Heads inaugurated the annual Jikinya Dance Festival in 2001 in an effort to preserve traditional dances, especially among young Zimbabweans at primary school level.
The annual festival, which is the biggest dance programme for primary school pupils and open to all primary schools from across the country's 10 provinces was held under the theme Building Zimbabwe through Dance, Our Heritage Is Our Identity.
Before COVID-19 struck, the festival had become a permanent feature on the school calendar involving over 5 000 primary schools competing at district, provincial and national levels.
Zim singer debuts on Poland music show
It was a dream come true for Poland-based Zimbabwean multi-talented artiste, Nobesuthu "Nolisa" Khumalo after she competed at The Voice of Poland, a Polish reality talent show in November.
The 29-year-old pop, soul, Afrobeats and RnB musician told NewsDay Life & Style that it had been an honour and an unforgettable experience to compete at the prestigious show that featured more than 60 competitors.
After her appearance on the show, Nolisa said many doors opened as she was contacted by several people who were eager to work with her.
Related Topics