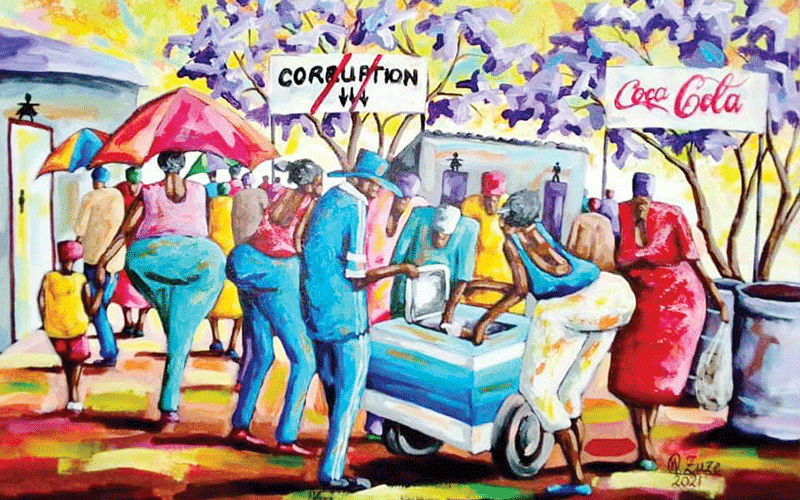 MUTARE-BASED visual artist Wilson Zuze takes pride in drawing and painting images on acrylic canvas and paper.
Zuze calls his art figurative, which mainly revolves around Zimbabwean people, especially women and how they fare in their day-to-day lives.
Speaking on his Back Home for Christmas image, Zuze said he remembers his good old Christmas days.
"On this piece Back Home for Christmas, I was remembering the time when people would flock back home from different places or countries such as South Africa. As a family back then, relatives and some friends would join us and enjoy the holidays together," he recalls.
Zuze believes that his artistry is highly expressive and rooted in the desire to bring out an understanding between the world of make belief and real experiences.
"My creative style has a direct influence from the expressionist movement. Through my art, this is boldly suggested and depicted by the consistent use of vibrant and contrasting colours coupled with bold brush strokes," he explained.
"As a result of the use of bold strokes, there is no intention to capture minute detail in all my pieces. My type of art mainly focuses on capturing activity of the subject that matters rather than the detail. This is very intentional because it gives me room for self-expression and individuality as an artist."
He further explained: "This is also the reason why in some instances, my colour scheme is not representational as denoted in the natural world. For example, people will find that purple is a dominant colour in my palette that appears in every piece. Even when I am painting rocky scenery, the rocks can be purple.
"The reason is that it is a signature of my authority and ambition in the creative arts industry and on top of all that, it also has a direct spiritual soothing effect on my inner soul. It speaks to me from the inside."
His themes also revolve around Zimbabwean women as he believes they were and still are hard workers who try to bring food on the table for their families.
"The reason most of my work consists of women is because when I was at college where I studied art, the model we had was a lady. So I became more familiar with female models than males. At the same time, in ladies I find interesting topics like gossiping, dancers, feeding and struggling among other themes," he elucidated.
Commenting on his blossoming jacaranda images, Zuze noted that annually around October, it is common experience to see the colour purple along roads like Leopold Takawira Street next to Parirenyatwa Group of Hospitals in Harare, as jacarandas blossom and beautify the capital city.
Incidentally, the jacaranda is almost present in many of the country's cities and towns.
Zuze, who is often nostalgic about his adorable lived experiences, recently took part in the Jacaranda Festival held at Borrowdale Race Course in the capital.
"The guinea fowl (hanga) piece reminds me of my youth days when I was a herdboy and a hunter as well. During that time, the guinea fowls used to be wild birds, unlike today where they are being reared by people. I used to catch them using snares," he remembered.
"Sometimes we would come across their eggs, but it was very rare to locate them because they are very good at hiding their eggs or themselves. Their dotted colours are good and are now a common feature on the ladies African attire."
Related Topics