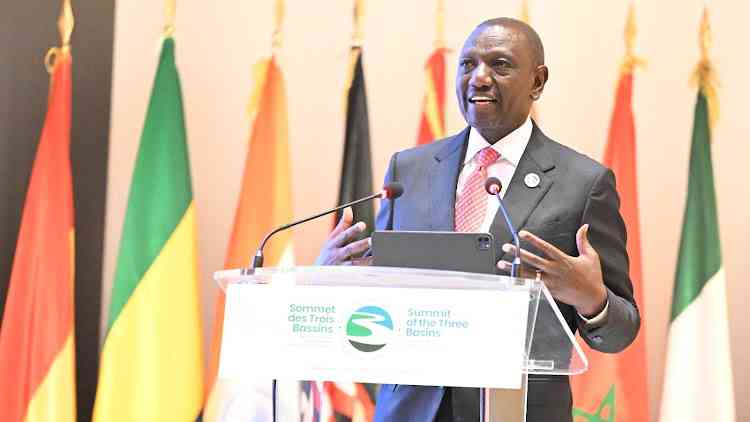 Africans intending to travel to Kenya in 2024 will no longer need visas.
This was annoucned by President William Ruto on Saturday while making a keynote address at the Three Basins Climate Change Conference in Brazzaville, Congo
"By the end of this year, no African will need a visa to enter Kenya. The time has come to understand the importance of doing trade between us," he said.
The Head of State said the move is aimed at boosting trade with African countries.
President Ruto stated that the low rate of intra-African trade and urged to reduce customs tariffs within the African continent to accelerate the implementation of the African Continental Free Trade Area.
"It is time we realize the importance of trading among ourselves and allowing goods, services, people and ideas to move freely across the continent," he explained.
Ruto highlighted that trade among East African Community countries had grown significantly due to the removal of visa requirements and tariffs.
He noted that acknowledging and providing incentives to countries in tropical forest basins for forest protection is a smart climate action.
Last week, Kenya abolished visa requirements for Angolans.
In May during the African Private Sector Dialogue Conference on Free Trade, President William Ruto told the African delegates that, that might be the last time they will pay for visas to visit the country.
In August, Indonesia was the third country within that month that the government announced it would enjoy visiting the country visa-free.
Comoros and Senegal nationals were in July given the freedom to come into the country visa-free.
In February this year, Eritrea and Kenya agreed to permanently scrap visa requirements for their citizens.
In June, Kenya and Djibouti pushed for a visa-free regime to spur trade between the two countries.
Also, Kenyans holding ordinary passports were granted visa-free entry to South Africa, according to a new visa-free regime between the two countries.
The President in November 2022 said the deal had been arrived at, after an intervention by South African President Cyril Ramaphosa.
Related Topics