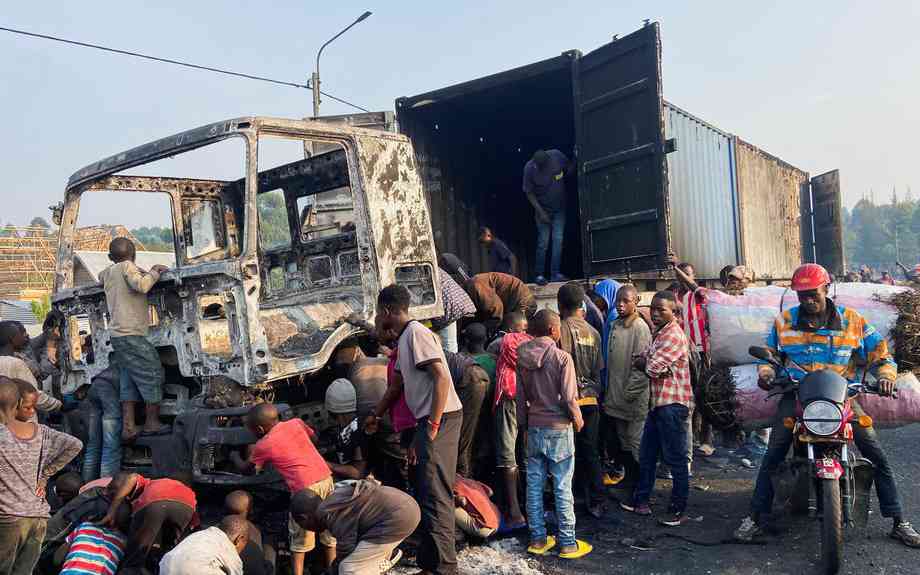 Eight people were killed and 28 wounded when protesters in east Congo's North-Kivu province blocked and then set upon a convoy of United Nations peacekeepers on Tuesday, resulting in clashes, the provincial government said on Wednesday.
Anti-U.N. sentiment has risen since a rebel group known as the M23 staged a violent offensive last year that has displaced hundreds of thousands and caused dozens of deaths in an already volatile part of the country.
Uprooted citizens accuse the U.N. peacekeeping mission MONUSCO and a regional force set up last year of failing to protect them. Their anger has spurred protests in and around the provincial capital Goma, some of which have turned deadly.
A MONUSCO convoy returning to Goma with supplies was attacked on Tuesday evening as it was making its way through Munigi, a camp that houses hundreds of displaced families outside the city, MONUSCO said in a statement.
Protesters used large stones to block the road and set fire to four trucks before stealing their contents, the peacekeeping group added.
The mission reported that three people were killed in clashes as peacekeepers and Congolese troops attempted to protect the convoy.
A joint investigation with Congolese authorities will shed light on the circumstances of the deaths, it added.
But North-Kivu's military governor Constant Ndima Kongba said eight people were killed and 28 wounded after MONUSCO fired warning shots.
In a statement on Wednesday, Kongba said displaced citizens stopped the convoy to enquire about its cargo and attacked after the peacekeepers refused to tell them.
MONUSCO spokesperson Khadi Lo told Reuters on Thursday that the mission had no comment on the governor's statement.
U.N. spokesman Farhan Haq said he had received reports of three civilians killed, and 32 peacekeepers and six truck drivers injured.
"MONUSCO has increased security at all bases in the country's east, with only essential movement authorized in Goma, as the level of threat against U.N. personnel has increased," he told reporters in New York.
With around 18,200 personnel, MONUSCO has been deployed in eastern Congo since taking over from a previous U.N. operation in 2010. Its mandate includes supporting the Congolese government's effort to stabilise the region.
Related Topics