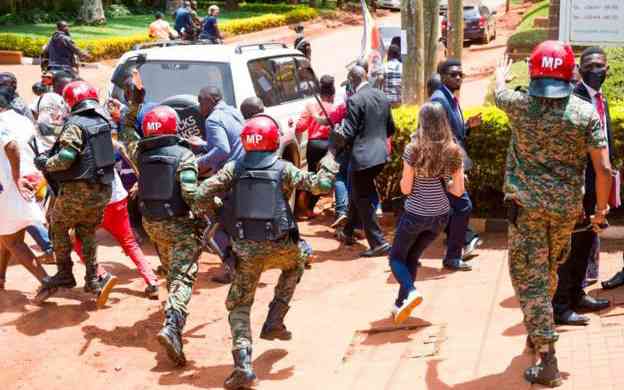 The Ugandan government has refused to renew the mandate for the UN's human rights office, a decision condemned by campaign groups and the opposition.
The foreign ministry said the operations of the Office of the UN High Commissioner for Human Rights (OHCHR) should end as its services were no longer needed.
In a letter to the OHCHR, dated 3 February, it said the government was committed to "the promotion and protection of human rights".
Its decision reflected "the prevailing peace throughout the country coupled with strong national human rights institutions and a vibrant civil society with the capacity to monitor the promotion and protection of human rights throughout the country", the letter said.
Human rights defender Livingstone Sewanyana says the decision does not come as a surprise and raises questions about the government's commitment to human rights.
He says the monitoring of human rights issues can still be done but the absence of the OHCHR creates a dent in expertise and resources.
The UN office was established in Uganda in 2006 with an initial mandate of monitoring human rights in conflict-affected areas in the north and north-east.
That mandate was expanded to cover the entire country in 2009. In 2020, the OHCHR opened a regional training centre.
There have been frequent crackdowns on those opposed to President Yoweri Museveni, who has been in power since 1986.
The opposition says dozens of its supporters were detained and tortured after the 2021 election.
In recent years, there has also been concern about restrictions on the freedom of expression and assembly through legislation.
Related Topics