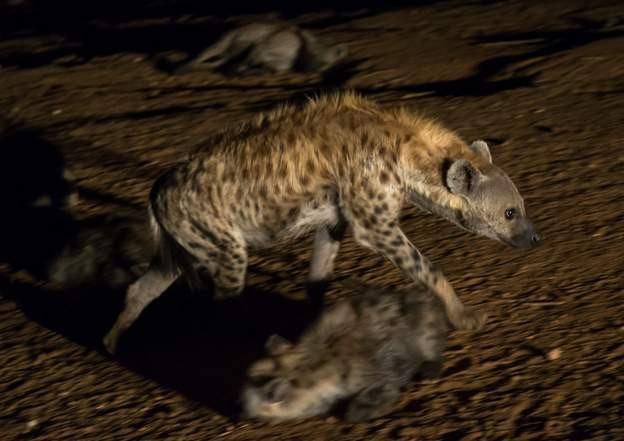 Ethiopia's wildlife authority is coordinating a team of hunters who are tracking down deadly hyenas near the capital, Addis Ababa.
This comes after a recent spike in hyena attacks on humans in the city and its surroundings.
Eight people have been killed in Addis Ababa over the last two years, Banki Budamo, an expert from the Ethiopian Wildlife Conservation Authority (EWCA), told the BBC.
The dead include ''children, elders and [youths],'' he said.
Experts warn that the expansion of housing and logging have led to the increase in attacks.
Earlier this month, a hyena attacked and killed a young man inside a modern residential development in Lege Tafo town, 17km (11 miles) from the capital.
Residents heard the man crying for help and managed to chase the hyena away but they were unable to save his life.
"There are a lot of hyenas. You see them around after 18:00," one woman, who is a mother of two, said.
The latest incident occurred amid calls for the elimination of hyenas.
'"Hyenas takes up residence inside unfinished houses," one of the guards in Lege Tafo said adding that there were "many" of the mammals in the area.
The authorities then responded by organising the hunt, hoping to push the hyenas into nearby forests.
''We have killed seven hyenas [in the past few days],'' Mr Banki said.
The issue seems more serious in Addis Ababa itself.
Survivors have been talking about what has happened to them.
In August, a young man lost both his legs when he was attacked in the suburb of Burayu.
''I was walking down the hill from my house. I saw an animal [hyena] crossing by. I saw only one. Then I don't know what I went through. I only woke up the next day,'' Berhanu Dhaba told the BBC at the time.
Many of the hyena packs live in the hills surrounding Addis Ababa, including the forest in Entoto.
In the past they have attacked rough sleepers and have also been blamed for digging up corpses.
In the past hyenas have been hailed for their consumption of waste thrown away by humans as well as and keeping the feral dog population under control.
Related Topics