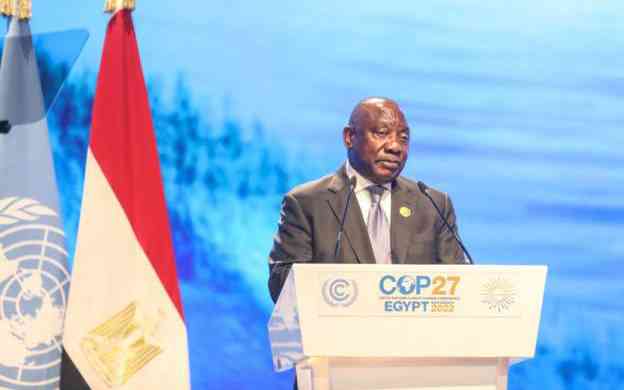 South Africa's President Cyril Ramaphosa has called on western nations to deliver a financial package they promised to help the nation speed up its move away from coal.
When it was announced last year, western nations and campaigners hoped it could provide a model ending reliance on coal.
The US, Britain, France, Germany and the European Union pledged a deal valued at $8.5bn (£7.3bn), which includes initiatives to help fossil fuel workers move to greener industries.
"As we looked more closely at it we found only 2.7% was grant money. The other proportions were loans," President Ramaphosa told the BBC at the UN climate summit COP27 in Egypt.
"South Africa already carries a fairly sizeable loan burden, and we require more grant funding. As we were drafting our investment plan, we came up to the figure that will help fund our just transition over the next five years. And it amounted to about $98bn," he said.
He added that he raised this with representatives from western nations and that "the message seems to have been well received."
When asked if any of the money had materialised, Barbara Creecy, South Africa's environment minister added the first has come through and that the sum involved was $600m.
When the deal was announced, former British Prime Minister Boris Johnson told the United Nations COP26 meeting in Glasgow that it would help move the world toward meeting its climate targets by "choking off international finance for coal".
Related Topics