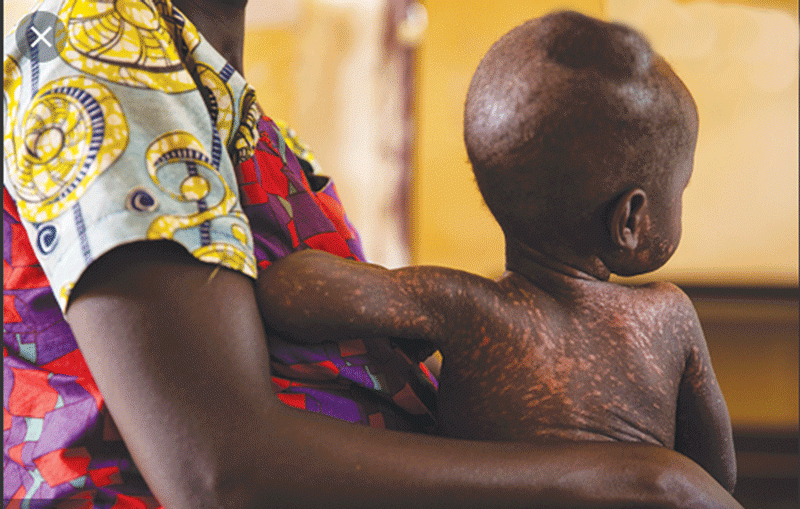 A DEADLY measles outbreak that hit the country in April this year has spread to most parts of the country, with the death toll now at 650, a Health ministry report has revealed.
Measles is a highly contagious respiratory tract viral infection which commonly affects children and is spread through sneezing, coughing and by touching or contact with secretions of an affected individual.
In a situational report (sitrep) released yesterday, the Health and Child Care ministry said 648 people had so far died, with Matabeleland South and Manicaland provinces recording seven and two deaths respectively on Thursday.
On the same day, 108 cases were reported, with Manicaland recording the highest (38), followed by Mashonaland East (29) and Midlands (21).
Matabeleland South recorded 13 cases and Harare seven.
The Health ministry said cumulatively, it had so far recorded 5 843 cases, with Manicaland recording the highest at 2 737, followed by Mashonaland West (807), Mashonaland East (689), Midlands (518) and Masvingo (401).
It added that 53,2% of the total cases were males.
Of the total cases recorded, 1 575 were vaccinated against the deadly diseases, while 3 402 were not and the status of the other 769 was unknown.
The Health ministry sitrep showed that all the deaths, save for one, were communal. The only institutional death was in Mashonaland West.
Manicaland recorded 334 deaths, Mashonaland West (112), Mashonaland East (92), Midlands (56), Masvingo (44), Matabeleland South (7) and Mashonaland Central (2).
No deaths have been recorded in Harare, Bulawayo, Chitungwiza and Matabeleland North.
The outbreak was first reported in Mutasa district, Manicaland province, and has spread nationwide, possibly because of church gatherings, according to Health and Child Care secretary Jasper Chimedza two weeks ago.
Chimedza said the most cases reported were among children aged six months to 15 years and from religious sects who were not vaccinated against measles due to religious beliefs.
Follow Garikai on Twitter @garietunhira
Related Topics