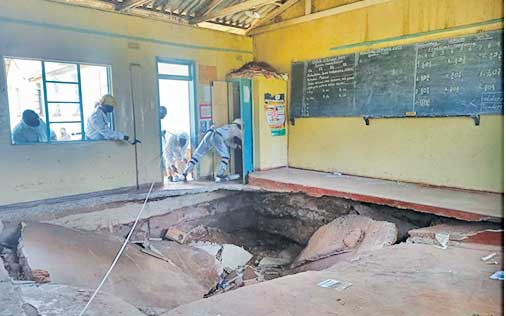 IN yesterday's issue of NewsDay we carried a story titled: Alarm over lithium mining near school, which highlighted that Sandawana Primary School in the Midlands province is facing a potential health crisis because of lithium mining activities taking place near the school where a cloud of dust now covers the area.
In the story, the Amalgamated Rural Teachers Union of Zimbabwe (Artuz) informs us that some "learners and teachers have withdrawn from the school due to the mining activity taking place close to the school". Artuz also said: "It is unfortunate that the government chooses profits over the wellbeing of the learners and teachers. As Artuz, we have since engaged with the relevant government bodies, but we never received a response."
What is of much concern is that this is not the first time we are hearing of mining activities threatening the existence of a school.
In March this year, a classroom block caved in after illegal gold diggers burrowed a network of tunnels underneath Globe and Phoenix Primary School in Kwekwe also in the Midlands province. Several other schools, infrastructure and lands countrywide are also being seriously affected by rampant mining activities as greed for riches overwhelms common sense and responsible mining practices.
As with the Sandawana Primary School problem, government appears uninterested to take the situation head-on by acting decisively against the mining activities which probably gives credence to Artuz's assertion that government seems to be choosing "profits over wellbeing of the learners and teachers".
Surely, government cannot condone lawlessness and allow it to proliferate anywhere in this country, especially at or near learning institutions. Does it now mean that miners are no longer being controlled by the country's laws? How and why are those mining under or near schools being given the greenlight to undertake such dangerous activities?
Even more disturbing is that the police appear not keen on bringing people involved in the illegal activities to book.
We, therefore, implore the Zimbabwe Republic Police to swiftly move into these areas to restore sanity, otherwise chaos looms across the country as the gold and lithium mining craze kicks in.
As we write, it is difficult to imagine the state of the ground under Kwekwe city where Globe and Phoenix Primary School is located, for instance. We shudder to think what will become of Sandawana Primary School in Mberengwa if the lithium mining taking place there is allowed to continue unabated.
We also wonder whether there was any environmental impact assessment done near Sandawana before miners moved in. Maybe those involved are yet another bunch of hoodlums bent on making quick money at whatever cost.
We thus reiterate that the law must take its course if sanity is to prevail across the country because selective application of the law will only result in anarchy and disaster. While the old adage keeps reminding us that a stitch in time saves nine, it appears unbridled mining activities will be our greatest undoing as a country.
Minerals are finite and we cannot allow the destruction of such key infrastructure as schools just to satisfy our immediate needs.
Related Topics