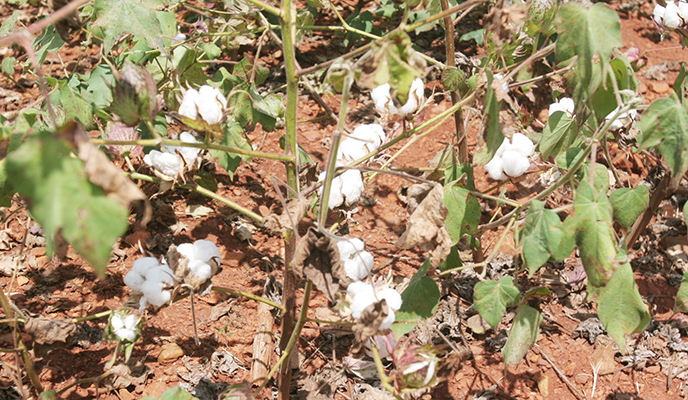 ZIMBABWE'S local cotton farmers have been urged to improve cotton value-addition from fibre to the fabric or clothing level, to minimise the effects of declining crop prices.
BY MTHANDAZO NYONI
According to a report, Review of the Cotton Industry in Zimbabwe, the country has the capacity to contribute towards global cotton stocks despite the deteriorating production.
To counter this, ZimTrade, Zimbabwe's exports promotion body, said local farmers should improve cotton value-addition from fibre to the fabric or clothing level, to minimise the effects of declining cotton prices.
"Most cotton farmers only retain between 15% to 20% of the value of their produce, while the remaining 80% to 85% is realised by other value chain players such as ginners, spinners and clothing manufacturers who are usually foreigners," ZimTrade said.
"ZimTrade is, therefore, encouraging businesses, particularly in the agriculture and manufacturing sectors, to redirect their efforts to building skills and technologies that will allow production of their own high value products and grow revenue in the process."
Zimbabwe's cotton sector is currently experiencing viability challenges as production has declined, with the area dedicated to cotton slumping from 300 000 hectares in the 2011/2012 season to 110 000 hectares in the 2015/2016 agricultural year.
The export body body said lower returns had seen Zimbabwe's cotton production fall from 350 million kg in the 2011/12 season to 104m kg in the 2014/15 season.
At peak production in 2012, smallscale farmers produced 660 million bales (350 703 tonnes) of cotton, which translated to 143 788 tonnes of lint and earned the country over $200 million.
The global average price per pound of cotton declined by 56% to $0,68 in 2016 from $1,56 in 2011.
ZimTrade said cotton ginners were using international lint prices as a benchmark to set prices for local produce.
"International commodity prices were susceptible to external macro-economic shocks and, hence, were very unstable," it said.
An example is the drop in cotton prices, which emanated from the sharp increase in global cotton stocks (particularly in China), as well as the influx of cheap synthetic fibres, ZimTrade said.
Zimbabwe National Farmers' Union came up with the report.