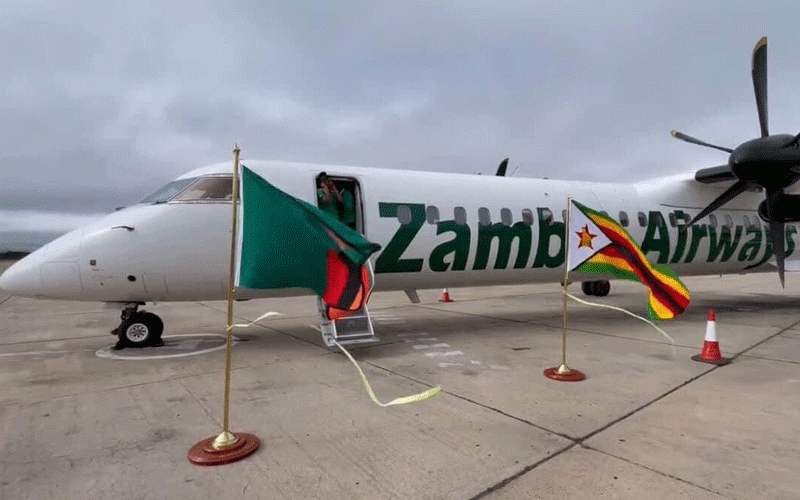 ZAMBIA Airways yesterday reintroduced the Harare-Lusaka flights as the national carrier targets to transport 1,9 million passengers annually by 2028.
The airline was relaunched in December 2021 through a partnership between the Zambian government, the Industrial Development Corporation and Ethiopian Airlines. It initially operated as a domestic carrier, before it secured foreign operator permits to kickstart a regional expansion.
The airline will operate on Tuesday, Thursday and Saturday, departing Lusaka at 0700hrs and departing Harare at 0850hrs on Tuesdays and Thursdays.
Speaking at the launch of Zambia Airways inaugural flight to Harare, Transport and Infrastructural Development deputy minister Mike Madiro said the launch opened up avenues for further linkages between the two countries.
"Indeed, our two countries are Siamese twins who share a lot in common. Let us bear in mind that the opportunity offered by Zambia Airways creates copious room for scaling up our further co-operation in areas of aviation and deepening the people-to-people relations, as these are a catalyst for stronger relations between our two countries. To attain the desired middle-income status and fully modernise our countries, it is imperative that we develop reliable, adequate and appropriate aviation linkages," he said.
Madiro said air transport, leveraged on robust airport infrastructure was pivotal to the economic growth of the country, adding that the aesthetic grandeur and attractive splendor of airport infrastructure was guaranteed nectar of tourism, leading to other positives such as trade, and regional integration.
The carrier's plans to debut regional services in July 2022 were delayed by lengthy regulatory processes to obtain the flight operation plans, a situation eventually resolved when Zambia's President Hakainde Hichilema stepped in to negotiate with his counterparts to the south.
Madiro said the introduction of new players on the market was in line with the government's policy of avoiding excess regulation of the air transport sector, which is a key enabler to economic development.
"We hope that this will have a net effect of reducing air travel times with the view to and improve access to a wider marketplace. I, therefore, challenge you all to make maximum use of this key business enabler," he said.
The airline said it would soon open other regional routes, including Johannesburg, Livingstone, Addis Ababa, Nairobi, Mombasa and Kinshasa.
Related Topics