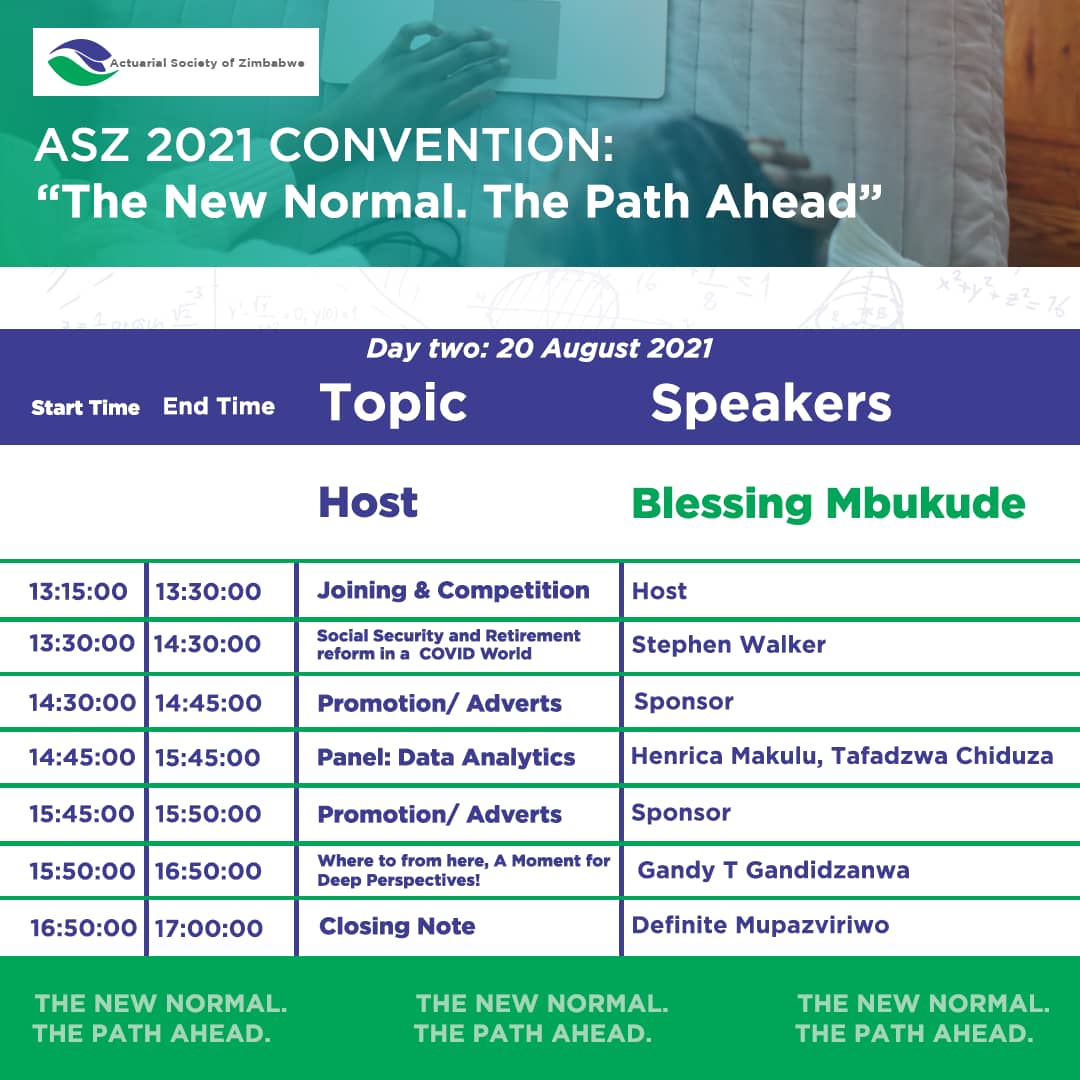 Actuarial Society of Zimbabwe Virtual Convention (13 August 2021 – 3 September 2021)
Since 2015, the Actuarial Society of Zimbabwe (ASZ) has hosted annual conventions that have provided a platform for actuaries and leading business people to discuss pertinent issues in the financial Services Sector in Zimbabwe. The norm at the conventions is to discuss new thinking and research in actuarial practise areas that include banking, investments, data science and analytics, life insurance, reinsurance, healthcare financing, pensions as well as public interest areas such as environment and resource management.
After a very successful first Virtual Convention in 2020, we are striving to make this year even better, bringing some exciting topics to our members. We have maintained a similar format as in 2020, through a four-day web series in the month of August 2021. The convention will be held every Friday afternoon in August 2021 from 1300hrs to 1645hrs.
As per ASZ tradition, discussions will focus on trending and emerging issues in areas of key actuarial practice as evidenced by the Convention theme titled, "The New Normal. The Path Ahead".
The theme of the Convention will be addressed through a series of presentations and panel discussions tackling efforts by the actuarial profession to remain relevant amidst the Covid-19 pandemic, as well as contribute to enterprise sustainability in an era of socio-economic upheaval.
The intensified competition driven by technological advancements such as Artificial intelligence, Machine learning as well as the strengthened focus on the increasing role of Data science and analytics will also be examined.
#NotToMiss🔴7th ASZ Annual Convention – @zimactuaries pic.twitter.com/DRQVkOqoTg
— NewsDay Zimbabwe (@NewsDayZimbabwe) August 19, 2021
We have an exciting line-up of presentations and panel discussions. Here are some highlights from our virtual programme:
Day 1 (Friday 13 August 2021): Day one of the Convention will be focused on professionalism, regulatory developments, and economic outlook. A key presentation to look out for on day one is the Guest of Honour presentation by the IFOA president Louise Pryor.
A screen shot of Gandy's slide deck from #ASZ2021 where he is asking thought provoking questions. Share your thoughts on this! pic.twitter.com/7InjSctxwG
— ASZ (@zimactuaries) August 20, 2021
Louise will speak about IFOA's new strategy, VSMD, which will highlight among other things, how actuaries can make a difference in a digital age and in a future fraught with uncertainty and opportunity. This session will also highlight what the DNA of the modern actuary will look like under IFOA's new strategy.
Day 2 (Friday 20 August 2021): A key presentation to look out for on day two of the Convention is by Stephen Walker on "Social Security and Retirement Reform in a COVID World". This session will highlight the social security and retirement reforms necessary in the COVID era, something the pensions industry in Zimbabwe is plagued with.
Another highlight of day 2 will be the panel discussion on Data Analytics. In this session, led by seasoned experts in the field, Henrica Makulu and Tafadzwa Chiduza, who will discuss among other things, practical approaches to how the actuarial profession can harness data science and analytics methods to problem solving in business. This session will give members the opportunity to partake in the engaging discussion.
Are you ready for day two of the 7th ASZ Annual Convention running under the theme "The new normal. The path ahead." Join us from 13:00 to 17:00 local Harare time. Hope to see you there! pic.twitter.com/uJxHZ06TiD
— ASZ (@zimactuaries) August 20, 2021
Henrica is a tech professional with 10 years' experience in digital literacy and 4 years' experience in data analytics. She loves to simplify tech concepts and help equip individuals with problem solving skills using technology.
Tafadzwa is a qualified Actuary and Enterprise Risk Management Actuary (FIA, CERA), who holds a Master's Degree in Applied Data Science and Artificial Intelligence from DTSI (France)
Day 3 (Friday 27 August 2021): Day 3 of the convention will focus on an array of presentations. Members can look forward to intriguing discussions on Customer Experience by Annah Gombe. A noteworthy presentation given the urgency of the matter, is the IFRS 17 Implementation discussion led by Kurainashe Manyerere, Karen Muyengwa and Takalani Sikhavhakhavha.
Kurainashe, Karen and Takalani will discuss the various learnings that they have observed in various IFRS 17 implementation projects, how organisations can leverage off existing IFRS 4 processes and information, key success factors for IFRS 17 projects and the impact of Covid-19 on IFRS 17 implementation projects. Of further interest to members will be the discussion on some of the technical aspects of the standard, namely, considerations when assessing the Premium Allocation Approach (PAA) eligibility.
Members should also look forward to an interesting topic by Tawanda Chituku titled "Advancing Equity in Universal Health Coverage in Zimbabwe". Tawanda will discuss in depth the challenges in the Zimbabwean health care system and the need to move towards a more equitable universal health care coverage in Zimbabwe. 
Day 4 (Friday 3 September 2021):
The final day of the convention will focus on topics on covid-19 modelling, as well issues relating to the General insurance industry in Zimbabwe. Members should also look forward to the Closing remarks by the President elect, Tafadzwa Chiduza.
Partner with Us In addition to the anticipated thought-provoking discussions, the convention will also provide the rare opportunity to interact and develop invaluable networks with leading personas in the global actuarial profession including Top-Zimbabwean Actuaries based in other markets. The convention is also expected to attract leaders in the local financial services industry.
Currently the ASZ is comprised of over 200 members, qualified actuaries and actuarial students, based both locally and internationally. More than half of these members are also expected to participate in this year's convention. The Actuarial Society of Zimbabwe hopes, through the annual convention, to stimulate discussions that will lead to development of local solutions to the challenges in Zimbabwe and hence contribute to sustainability of the entirety of the financial services industry in Zimbabwe. Actuaries in Zimbabwe are committed to becoming a visible reference point for all 'things' of a risk management nature.
If you are interested in taking part, sponsoring or advertising at this year's convention, for further details please direct your enquiries to Blessing  Mbukude,  +263 77 321 7976   email: blessingmbukude@gmail.com, or  Natasher Munkondya, +263 77 798 2770 email: nmunkondya@atchison.co.zw or secretary@zimactuarialsociety.org.zw