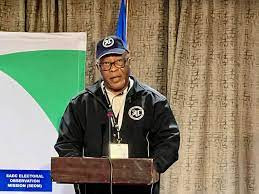 The Southern African Development Community (SADC) Electoral Observation Mission (SEOM) has red-flagged the Zimbabwe Electoral Commission's (ZEC) mishandling of the country's general election, casting aspersions over the credibility of the entire process.
In a preliminary statement released on Friday, the team cited several issues including ZEC's delays in delivery of ballot papers, glitches in the release of the voters roll, voter intimidation and postal voting controversy that could dent the final outcome.
"The mission observed that the pre-election and voting phases, on 23-24 August 2023 harmonised elections were peaceful, and calm," the team leader Nevers Mumba said.
"However, for reasons outlined above, the mission noted that some aspects of the harmonised elections, fell short of the requirements of the Constitution of Zimbabwe, the Electoral Act, and the SADC Principles and Guidelines Governing Democratic Elections (2021)."
As the nation awaits the official announcement of election results, particularly the presidential ones, anxiety has filled the atmosphere with officials from the two leading parties Zanu PF and CCC both claiming victory.
Despite reports of voter intimidation and alleged plots of rigging, there have not been cases of politically-motivated violence announced by the authorities.
Related Topics