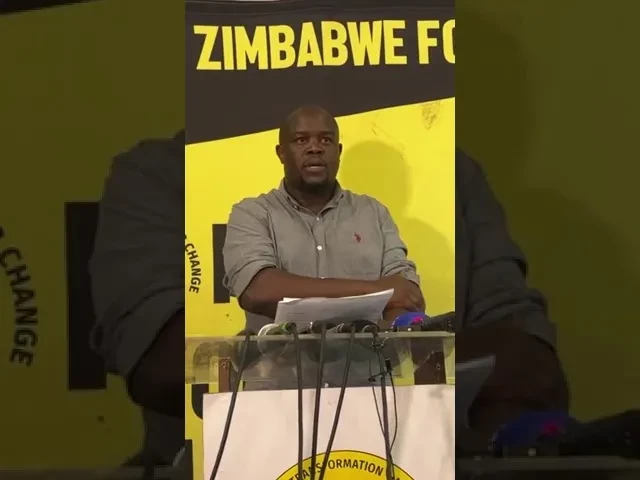 THE opposition Citizens Coalition for Change (CCC) party yesterday said it was closely monitoring the conduct of the Zimbabwe Electoral Commission (Zec) as it announces election results.
The party described the election as not free and fair.
Addressing a Press conference in Harare, CCC spokesperson Promise Mkwananzi said preliminary results favoured the party.
"As a movement, we are currently seized with monitoring the electoral process, particularly the V11s," Mkwananzi said.
The V11s formed part of the Constitutional Court challenge against President Emmerson Mnangagwa's disputed 2018 election victory.
According to the Electoral Act, the presiding officer is supposed to post the V11 forms containing election results outside a polling station.
"We are watching Zec, and we hope that it is going to do the right thing. We know that there are areas where they are refusing to post V11s and V23s," Mkwananzi said.
"In some instances, it is alleged that the presiding officers are being instructed to make clandestine phone calls before publishing the V11s."
CCC has raised several complaints against Zec, accusing the electoral body of conniving with Zanu PF to rig the election.
CCC raised concerns over failure by Zec to provide ballot papers on time in some urban polling stations, which resulted in delayed voting.
"We feel that the process is fundamentally flawed and is unable to produce a free and fair electoral outcome," Mkwananzi said.
Meanwhile, the CCC condemned the arrest of election observers from the Zimbabwe Election Support Network (Zesn) and the Election Resource Centre (ERC).
"Our colleagues in the civic sector, specifically Zesn and ERC, were trying to ensure that we have a transparent election and enhance the accountability of this election," CCC deputy secretary for elections Ellen Shiriyedenga said.
"This is their mandate as the election watchdog and as the CCC, we strongly condemn their arrest and they have to be released soon to continue with their mandate."
Thirty-nine Zesn and ERC observers were arrested on Wednesday night on a charge of carrying out an illegal parallel vote tabulation exercise.
Mkwananzi dismissed claims that the CCC was working with the ERC and Zesn observers.
"Civil society organisations are independent organisations that can work with everyone, be it Zanu or CCC. So government's statement that we work with (ERC and Zesn) is inaccurate," he said.
Related Topics