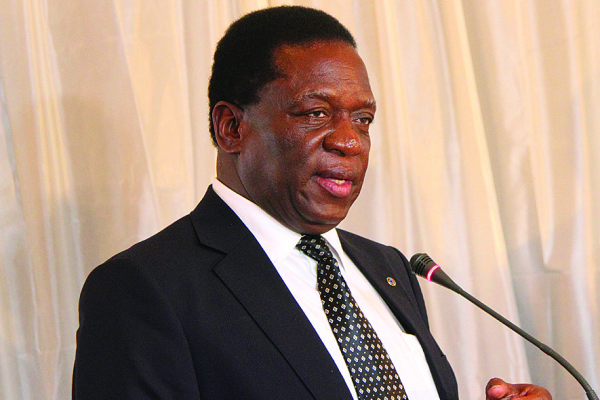 BY XOLISANI NCUBE
Zanu PF is proposing to spend at least $1 million on a solidarity march for President Emmerson Mnangagwa, with the bulk of the budget going to food and transport.
Although the youth league has been given full mandate to mobilise resources for the event and to get assistance from the main wing, it has emerged that the planned march would now cost $1 092 500.
According to a proposed budget yet to be approved, hiring of tents and décor for the event would cost $18 300, while accommodation for the organising committee would cost $4 000.
According to the initial plan from Zanu PF national commissar Engelbert Rugeje, the rally was aimed at mobilising 300 000 party supporters to travel to Harare from the country's 10 provinces to show support for Mnangagwa.
The date for the solidarity march has not yet been set, but the party has proposed to spend $573 000 on fuel to bus people to and from their respective provinces.
The money is set to buy 187 000 litres of fuel and $60 000 on hiring the train to transport some supporters.
The party also wants to spend $1 000 on promotional jingles for the event and $15 000 on live streaming and videography.
According to the proposed budget, food and refreshments would cost at least $246 000, while hiring of toilets and a stage was pegged at $120 000.
The party wants to pay $15 000 to artistes who will perform at the solidarity march and spend at least $30 000 on branding and public banners.
Initially, the march was set for February 26, but moved due to various reasons, with some alleging financial constraints, while others claimed an astronomic budget caused Mnangagwa to postpone the march.
Each province had been tasked to mobilise at least 30 000 people to participate in the solidarity march.
According to Rugeje then, the commissariat was going to allocate 10 000 litres of fuel to Bulawayo, Matabeleland North and South, 15 000 to Harare, the same quantity to Manicaland and Midlands, 18 750 to Mashonaland East and the same quantity to Mashonaland West, Central and Masvingo provinces.
Attempts to get a comment from Zanu PF youth league was fruitless as its secretary Pupurai Togarepi and secretary for commissariat Godfrey Tsenengamu were not picking up calls.
Zanu PF finance secretary Patrick Chinamasa referred questions to party spokesperson Simon Khaya Moyo, who said the budget issue was the responsibility of the youth league.
Previously, Tsenengamu had told NewsDay that those who felt the budget was high were anti-Mnangagwa, saying the march was necessary because they felt their leader was under siege.
"We believe our leader is under attack, locally and internationally. There are countries like the USA [United States], which are always criticising him and we need to show support for our leader. Locally, we have parties that are talking about the transitional government," he said.
"We are gathering to show support for our leader. He won the elections and he cannot be distracted by noise coming from other areas. We will always have Gamatox and G-40 remnants and it is not surprising that we will have dissenting voices within the party, but we will not agree at the same time, all the times."