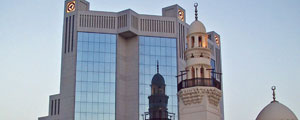 DUBAI — Two more top executives at Bahrain's Batelco have quit the firm, leaving lower level staff to run the former telecom monopoly as it tries to arrest a sustained profit slump and integrate its largest ever acquisition.
Reuters
The company — formally called Bahrain Telecommunications Co — vies domestically with units of Kuwait's Zain and Saudi Telecom Co as well as about 10 Internet providers on an island of 1,3 million people.
The competition has helped push down Batelco's net profit in 12 of the past 13 quarters.
The low-key summer departures of chief financial officer (CFO) Marco Regnier and company veteran Peter Kaliaropoulos follow the abrupt resignation of former chief executive officer (CEO) Sheikh Mohamed bin Isa al-Khalifa in May.
It appears a three-person committee of board members is now in charge, according to an earlier company statement.
Batelco did not respond to several requests from Reuters for comment.
The upheaval has spooked investors — Batelco's shares slumped to an all-time low last week and the yield on its $650 million bond issued in April has widened by more than a third.
"Batelco has recently experienced significant and unexpected changes to its top management," Standard and Poor's (S&P) wrote in a note last week.
"This could lead us to reassess our view of the company's management and governance downward."
Kaliaropoulos left Batelco in June after eight years, his roles having included CEO and chief operating officer.
His resignation was mentioned in the company's May bond prospectus, but it was not reported by the Bahrain bourse or on the Batelco website.
The departure of Regnier in August after 15 months as CFO was reported in an exchange filing.
When Sheikh Mohamed quit as CEO Batelco said Kaliaropoulos would run the company in conjunction with a committee of three unidentified board members. It has not provided any update on its managerial structure following Kaliaropoulos's departure.
Batelco's website says five people are part of its executive management, including an internal auditor and general counsel. The departure of senior leaders followed Batelco's acquisition of Cable & Wireless Communications' Monaco and Islands Division for $570 million in April.
This put Batelco in about 10 new, disparate markets such as the Channel Islands, Falkland Islands and Diego Garcia in the Indian Ocean.
S&P has warned it could cut the state-controlled telecom operator's long-term corporate credit rating to junk status. Batelco is currently "BBB-", the lowest investment grade rating.