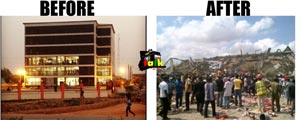 A multi-storey department store has collapsed in Ghana's capital, Accra, with dozens of people believed to be trapped inside.
Report by BBC
Rescue efforts are under way, with officials saying that at least three people died in the Melcom store.
The BBC's Sammy Darko, who is at the scene, says 10 people have been pulled alive from the rubble so far. Ghana's President John Dramani Mahama said he had suspended his campaign for next month's election.
The government has declared the area in the city's Achimota neighbourhood a disaster zone. Vice-President Paa Kwesi Amissah-Arthur is co-ordinating rescue efforts after the building, which opened earlier this year, collapsed 15 minutes before the shop opened.
Hundreds of rescuers are digging through the rubble, amid fears that dozens of people are trapped inside, our correspondent says.
In a statement on its Facebook page, Melcom said it had rented the building which housed it Achimota branch on a 10-year lease.
"This is indeed a very tragic incident," it said.
"We are doing everything possible to see that help reaches those who need it. Our heartfelt condolences and deepest sympathies goes to the families of those who may have lost their lives."
Our reporter says customers often queue outside the store before it opens and officials say they believe about 50 people may been inside at the time of the collapse.
Eyewitness Ama Okyere told the AFP news agency she was very close to the shopping centre when the building came down. "I had to run for my life. I was so terrified. I believe there are lots of people trapped under this because this is a heavily patronised shopping mall in the area."
Family members have been trying to call relatives feared trapped beneath the rubble on their mobile phones, AFP reports.
Another witness, John Owusu, said he heard a bang before the building collapsed.
President Mahama, in a tweet moments after the building collapsed, said: "My prayers are with the workers, shoppers and others who are trapped in the rubble of the Achimota Melcom building."
He has cut short his campaign in the north of the country and is flying back to Accra.