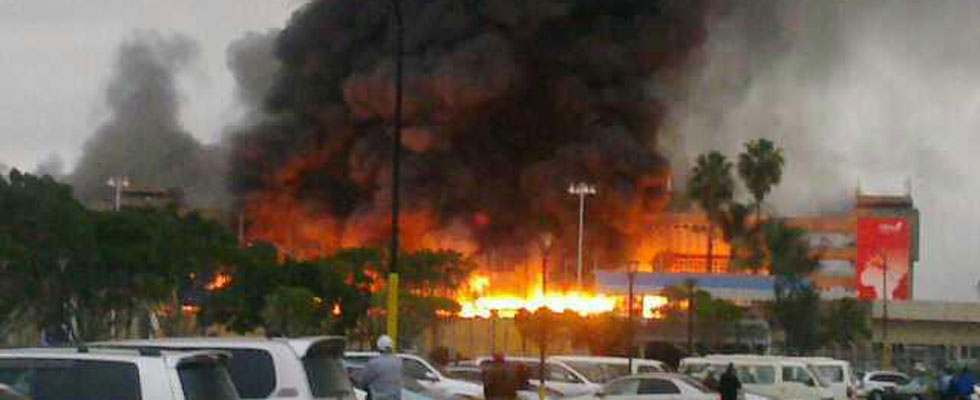 Kenya's main airport has been closed following a dawn fire that destroyed its arrivals unit on Wednesday.
Daily Nation
A major fire broke out at 5am and a combined fire brigade was still battling it three hours later. The airport was cordoned off by the paramilitary General Service Unit (GSU) and air operations suspended.
President Kenyatta visited the scene at 9am. Also at the airport were Cabinet Secretaries Joseph ole Lenku (Interior), Michael Kamau (Transport) and Anne Waiguru (Devolution).
Interior Principal Secretary Mutea Iringo, who spoke to the Nation on phone from the airport, confirmed the closure describing the inferno as "so serious".
Head of Security at Kenya Airports Authority Eric Kiraithe said: "By our own standards this is so big."
An airport official who arrived at 5am said he found smoke billowing from the terminal.
Mr Kiraithe said planes already on the runway were cleared to pave way for emergency landing adding that they were liaising with the police to clear Mombasa Road.
"The immediate step at the moment is to clear the Mombasa highway for emergency purposes," he added.
Another official said that water hydrants had failed.
Emergency services from the military, fire brigade, Nairobi County and Kenya Red Cross were still battling the fire at 8am. Transport Secretary Kamau said the fire started at the immigration area of the International Arrivals terminal then spread to the customs/buggage area.
"JKIA's emergency security programme is now in full force and all responding agencies are on the ground to ensure that the situation is normalised as soon as possible. We have been able to evacuate everyone and no injuries have been reported," said Mr Kamau.
He said planes that wanted to take off without passengers have been allowed to do so.
Kenya Airways posted a message on twitter advising passengers not to move to the airport. The airlines chief executive Titus Naikuni said all its incoming and outgoing passengers were safe.
Inspector General of Police David Kimaiyo said there were no casualties following the fire, and that it had mostly been contained as of 9am.
JKIA is a major transport hub for the region, with passengers from other African countries connecting to and from European, Middle-East and Asian airports.
The Kenya Airports Authority (KAA) managing director Stephen Gichui said the Government had formed a committee chaired Transport Secretary Kamau to evaluate the situation and ensure resumption of operations at the key airport.
In a statement, Kenya Airways said several flights had landed safely.
"The following flights landed safely in Nairobi: KQ765, KQ466, KQ221, KQ101, KQ625, KQ887, KQ732, and KQ417.