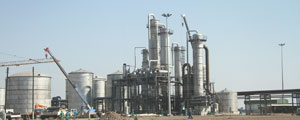 ETHANOL uptake more than doubled to 2,2 million litres in September from July's consumption spurred by the introduction of E5 mandatory blending, the Zimbabwe Energy Regulatory Authority (Zera) has said. E5 contains 5% ethanol and 95% petrol.
Victoria Mtomba
"Ethanol uptake increased by 229% upon the introduction of E5 mandatory blending," Zera chief executive Gloria Magombo said. She said the price of ethanol would be set by Zera in consultation with the Energy and Power Development ministry and reviewed every three months.
"The price of E5 will be reduced by an average of 3c in comparison with unleaded petrol," Magombo said.
Magombo said the National Oil Infrastructure Company was currently in the process of reviewing their business processes. She said the regulator was working on the mandatory blending of E5 and optional E10.
She said the mandatory blending would see a price differential of 6 cents from unleaded petrol with the introduction of E10.
E10 disbursement is expected to start today.
A statutory instrument to enforce that was not in place as of yesterday.
Energy and Power Development deputy minister Munacho Mutezo told stakeholders yesterday the introduction of mandatory blending was a process, not an event.
"Government is in the process of putting in place legislation for mandatory blending. A statutory instrument to give effect to mandatory blending shall be gazetted soon," Mutezo said.
However, the introduction of mandatory blending has created challenges for car dealers.
Car dealers that attended the meeting said if the government moves further to E20, they would not be able to give warranties to vehicles posing a problem to motorists.
Government plans to move to E20 by the first quarter of next year. Speaking at yesterday's meeting, a representative from Mazda and Nissan said after market fitment is done on the vehicle, the company would not warranty the car.
Toyota Zimbabwe dealer principal Simplicio Shamba said there were no warranties after fitment.
"We use 1 000 units per year and all vehicles come through from one assembly plant and to change that will be difficult," he said. He said 70% of the units they sell were diesel with the remainder petrol-powered vehicles.
"Manufacturers are saying you can't change the assembly plant for just 30%," he said.
Shamba said the warranty would not cover anything that happens to the engine.
Green Fuel representative Conrad Rautenbach said the company would provide warranties for cars when they fit the upgraded flex fuel kit on customer vehicles.