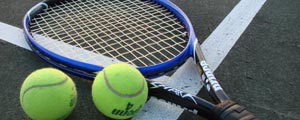 DAVIS Cup non-playing captain Martin Dzuwa is confident Zimbabwe will secure promotion to 2015 Davis Cup Euro/Africa Zone Group II when they play either Namibia or Algeria in the Africa Group III playoff semi-finals at the Smash Tennis Academy in Cairo, Egypt, today.
DANIEL NHAKANISO
Zimbabwe finished top of Pool A after winning all their three matches in the Africa Group III round robin competition with wins over Congo (3-0), Nigeria (3-0) and Madagascar (2-1).
Algeria and Namibia were set to meet in their final Pool B round-robin decider yesterday, where the loser would play Zimbabwe today.
While a win in today's playoff semi-finals would be enough for Zimbabwe to secure one of the two promotion tickets available, Zimbabwe would be aiming for an outright win at the 10-team tournament.
Dzuwa, who is captaining the team comprising of Lock, Fynn, Garanganga and Tinotenda Chanakira said he was happy with his how team has played so far and was confident ahead of today's playoff.
"We were probably in the toughest group in the competition and to finish top without losing a match shows that we have what it takes to go all the way. I'm happy with how my team has played so far, they have dominated almost all the matches we played and responded well to the early setback against Madagascar on Thursday.
"Heading into the playoffs, we won't be taking anything for granted, but I think we have what it takes to achieve our goal of securing one of the two promotion tickets," he said.
The Zimbabwe team began their quest to qualify for 2015 Davis Cup Euro/Africa Zone Group II on a positive note after beating Congo 3-0 on Monday.
Lock outclassed Armel Mokobo 6-1, 6-0, before Tinotenda Chanakira walloped Congo's Pagnol Madzou 6-0, 6-0 to won the singles with a 2-0 score margin.Chanakira combined with Mark Fynn to post a straight convincing win against Mokobo and Madzou 6-0, 6-0 in the doubles rubber.
On Wednesday against Nigeria, Zimbabwe continued with the fine show first led 2-0 in the singles event as they headed for the doubles matches which they also wrapped up for another 3-0 win.
After a clean sweep in their first two matches, Zimbabwe lost their first tie of the competition on Thursday when Benjamin Lock lost to the Malagasy second seed Emmanuel Sylvester 6-3, 6-3.
Zimbabwe's top seed Takanyi Garanganga, however, levelled the match with a 6-4, 6-2 win over Madagascar's number one Clifford Enosoregbe before Lock and Mark Fynn combined to beat Madagascar 6-4, 6-2 in the doubles decider. The win over Madagascar secured left Zimbabwe, who had a free day yesterday, just one win away from securing promotion.