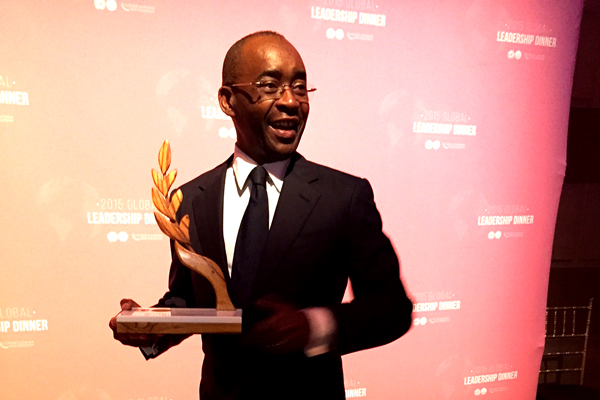 Econetwireless founder and Executive Chairman,Strive Masiyiwa picked up two prestigious awards in New York this week in recognition of his philanthropic work.On Tuesday he was honored by the United Nations Foundation for co-ordinating African business support for efforts in the fight against the Ebola outbreak in Guinea, Sierra Leone and Liberia.
By James Makuwire
The function, which was attended by the Secretary General of the United Nations and dozens of other leading UN officials, philanthropists from around the world and heads of diplomatic missions, honored Masiyiwa for responding to the AU's call for African businesses to respond to a very African situation which was threatening to get out of hand and engulf the entire region were it not contained urgently.
Mr. Masiyiwa swung into action after receiving a desperate call from the Chair of African Union, Mrs. Nkosazana Dlamini-Zuma to help. Mrs. Zuma had already gathered hundreds of African medical volunteers who were prepared to risk their lives by going to the three countries and serve. However, as usual, the AU had no capacity to provide logistics and the finances required for the operation.
According to the citation, Mr. Masiyiwa organized for business colleagues to contribute and maintain the AU team in the three countries helping to contain the situation.
Former Secretary General, Dr Kofi Annan who handed the trophy to Mr. Masiyiwa, paid tribute to the Zimbabwean entrepreneur and said he was a true African with a big heart who, although having made it in life, still thought about the under-privileged and gave his all in helping others.
The next day, Mr. Masiyiwa was again making his way to the podium at a massive function to receive The Freedom Award from the International Rescue Committee which is catering for millions of refugees world wide. The IRC is a humanitarian organization which also provides health care to the poor and is present more than 100 countries, including Zimbabwe.
Its workers are drawn from across the globe and operate in such places as Syria, Afghanistan and Central African Republic, DR Congo and Vietnam.
The Freedom Award citation states that Mr. Masiyiwa has, over the past 20 years, provided scholarships to more than 100,000 young Africans to study abroad and at home through his family foundation. (Another foundation, run on a full time basis by his wife, Tsitsi, caters for more than 40,000 HIV/AIDS orphans)