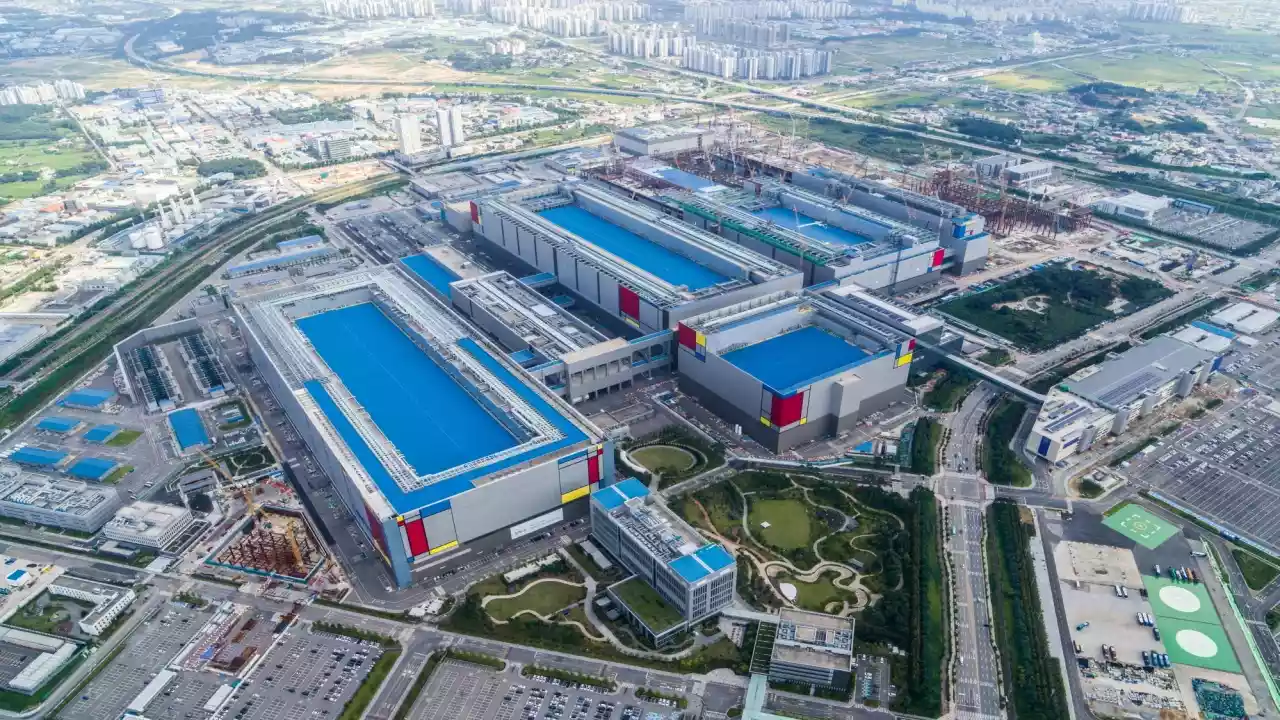 South Korea says it will build an enormous facility to make computer chips in the greater Seoul area, with about $230 billion in investment from memory chip giant Samsung Electronics.
The plans were announced by President Yoon Suk Yeol on Wednesday and confirmed by the electronics giant.
"We will build the world's largest new 'high-tech system semiconductor cluster' in the Seoul Metropolitan area based on large-scale private investment of almost 300 trillion Korean won," he said.
"In addition, we will grow the 'semiconductor mega cluster' to the world's largest in connection with the existing memory semiconductor manufacturing complexes."
A government statement said the chip cluster would be located in Gyeonggi province, which is part of the Seoul Metropolitan area, and the total investment would be completed in about 20 years.
In order to protect intellectual property, the country will revise its Industrial Technology Protection Act, according to the statement, which did not offer additional details.
Last May, Samsung (SSNLF) outlined a plan to pour more than $350 billion into its businesses and create tens of thousands of new jobs through 2026. It said it would primarily invest in core businesses such as chipmaking and biopharmaceuticals.
It wasn't immediately clear whether the previously announced investment would overlap with the one announced Wednesday by the government.
Sanjeev Rana, a CLSA analyst, told CNN that Samsung's investment plans over the next two decades appear to translate into an average of about 15 trillion won spent annually on its foundry or contract manufacturing business, an amount that is close to its existing yearly capital expenditure in that area.
"This is in line with market expectations," he said.
Samsung is best known for its electronics division, with its popular smartphones and televisions. In recent years, the company has leaned further into its role as a provider of semiconductors as manufacturers around the world suffer from shortages.
In the area of high-end computer chips, Samsung competes directly with Intel (INTC) and Taiwan's TSMC.
The vast majority of the world's advanced microchips are made in just two places, Taiwan and South Korea. Taiwan's industry is larger and more dominant, something South Korea is keen to challenge.
The concentration of so much crucial chip manufacturing in just two places has caused concerns over global supply chain stability especially as South Korea and Taiwan are both militarily threatened by neighbors, North Korea and China respectively.
Over the last few years, major economies express concern about losing access to semiconductors, particularly as political and economic tension has escalated between China and the United States.
Governments, including Washington, and major companies like Apple have asked semiconductor companies to localize their operations.
Related Topics