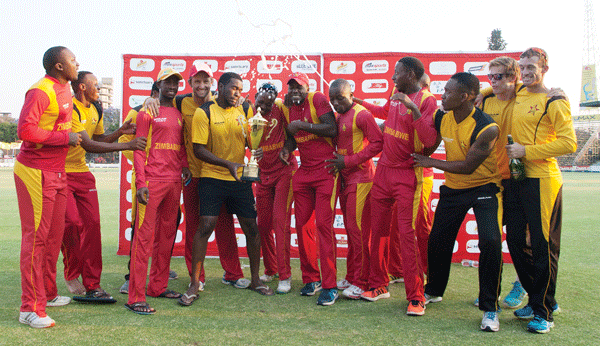 ICC World Twenty20, 1st Match, First Round Group B: Hong Kong v Zimbabwe at Nagpur, Mar 8, 2016
Cricinfo
Zimbabwe 158/8 (20/20 ov) Hong Kong 144/6 (20/20 ov)
Zimbabwe won by 14 runs
6:30pm: Sibanda set the game up for Zimbabwe with his maiden T20I half-century, Atkinson then threatened to help Hong Kong chase 159 with a maiden T20I half-century of his own, but Zimbabwe's seamers held their own at the death. Tiripano scalped Atkinson and bowled a fine last over, while Chatara, on return, took two wickets in two balls. Ultimately, Chigumbura's cameo turned out to be crucial as well.
Sibanda, Man of the Match: It was not easy out there. It was a decent score to be honest. The wicket was slow. We just had to drag the game all the way. We have some big hitters. Credit to Elti (Chugumbura). Myself, Hami and the rest of the guys have to carry the team through. They [Hong Kong] pushed us. Credit to the bowlers as well. The wickets in India are different to what they are back home.
Hamilton, Zimbabwe captain: I thought to get to 150 after the wobble was a good effort was about par. Elton played well at the back end and Vusi controlled the innings. I thought Tanwir stifled us. Sibanda played well and we needed somebody to take the innings deeper. The way he batted was really good for us. The run-out was a silly thing. I think I will get a few more hits in Youtube today.
Tanwir, Hong Kong captain: We did well in the middle overs, and I thought we could chase this. Credit to Zimbabwe. They bowled well in the Powerplay. We were in position to keep them under 150, it is a positive sign for us.