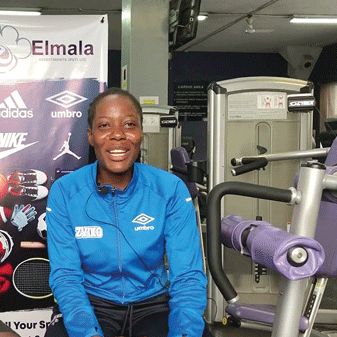 BY MAGRETH RUZVIDZO ZIMBABWE'S rising female boxer Zvikomborero Danzwa  hopes she can create a name for herself as she braces for the biggest fight of her career, the African Boxing Union (ABU) bantamweight title bout against South African Mellisa Miller.
The fight will be one of the undercards at the World Boxing Council (WBC) super bantamweight title fight between Zimbabwean Kudakwashe "Takemoney" Chiwandire and Mexican Zulina Munoz on August 20.
The fight will be hosted on Zimbabwean soil for the first time in history and for the third time in Africa, and is expected to bring an estimated revenue of at least US$250 000 generated directly from the tourism receipts and also from other economic activities.
The 22-year-old Danzwa, who is under the guidance of her coach Lowson Muhambi, said her journey has not been rosy, but hard work and determination have helped her to sail through.
"The journey is a bit challenging sometimes and at one point, you might think of quitting, but you find out that it's something you are only good at. So, you end up enduring to fulfil your passion," Danzwa.
She is expected to go into camp next month.
Danzwa said she was not intimidated by her opponent, but just remained focused on winning this fight.
"My preparations are okay now, I'm pushing. I'm training and I'm now waiting to go into camp, that's the thing I'm looking forward to," she said.
"The ABU bantamweight title is one of the biggest fights in my career and I expect to secure a win. My opponent, in my own opinion, is good and I can't judge, but I know that I'm the best. I want to prove to the Zimbabwe community that I can stand on my own and take that belt."
Her opponent Miller has 21 fights with two wins, 12 losses and three draws, while Danzwa has 10 fights — seven wins, two losses and one draw.
Follow Magreth on Twitter @MagrethRuzvidzo
Related Topics