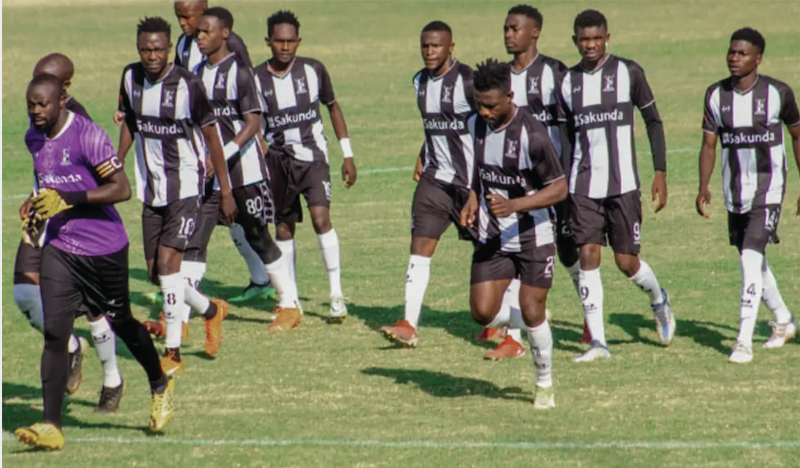 HIGHLANDERS . . . . . . . . . . . . . . . . . . . 0
HWANGE . . . . . . . . . . . . . . . . . . . (0) 1
HIGHLANDERS suffered their third defeat of the season to Hwange in an exhilarating Castle Lager Premier Soccer League match at the Colliery Stadium yesterday.
The solitary goal by substitute Lloyd Mtoma derailed Highlanders' title aspirations as they remain on 44 points, four behind leaders Ngezi Platinum who posted a victory over ZPC Kariba on Saturday.
Hwange's goal came in the 60th minute through Mtoma's first touch coming from the bench. He launched a cracker from outside the penalty box to beat goalkeeper Ariel Sibanda all systems out and sent the coalminers' supporters into frenzy.
Hwange goalkeepers' coach Edmore Sibanda was happy with the win and said his boys are motivated by playing big teams.
"We played well and when we play big teams like Highlanders, the boys get motivated. We were playing a big team that is why we came out with a victory," he said.
His opposite Baltemar Brito was visibly disappointed, but said his boys played well.
"When they scored that goal, we did nothing, zero and that was wrong. The game was a good one. We created many chances, but we did not score. This is football and at this moment in time we have lost four times. We have lost, but other teams also have many defeats so that is not a problem," Brito said.
A chance for Highlanders came in the sixth minute from a Elshamar Farasi weak shot which looked not dangerous at all, but eluded Hwange goalkeeper Nedrick Madeya and narrowly missed the upright post.
Four minutes later, Lynoth Chikuhwa did well to control on the left and beat one man, but sent his effort into no man's land.
The resultant goal-kick from Madeya found Pritchard Mpelele loose and he made a move into Highlanders' penalty area, but delayed to take a shot until Highlanders midfielder Melikhaya Ncube disturbed him.
The coalminers were awarded a free-kick just outside the box in the 15th minute, but Jofias Mumpande's effort from the set-piece went straight into the Highlanders defence wall.
A header by Peter Muduhwa in the 21st minute was saved by Madeya after referee Mhaka Magare awarded Highlanders a free-kick on the edge of the box after Raylton Maphosa brought down Farasi.
Then Highlanders was all over Hwange, attacking the hosts on the left and coach Nation Dube made a quick decision to take out Maphosa and replace him with Brendon Rendo.
But action swung from one end to the other as Hwange also looked determined, but Mpelele was wasteful upfront. Marceline Mlilo for Chipangano made a solo run on the left into the box in the 39th minute, but failed to pack a shot.
Hwange finished the first half with some brilliant moves upfront engineered by veteran midfielder Canaan Nkomo with Mpelele in the mix; the desired goal was, however, elusive.
Madeya came to Hwange's rescue in the 80th minute punching away for a corner a substitute Calvin Chigonera shot from inside the box.
Teams
Hwange: N Madeya, J Mumpande, C Nkomo (T Goredema 88'), R Maphosa (B Rendo 25'), G Goriyati, S Sithole, P Mpelele (J Chivasa 59'), S Gadzikwa, T Muvuti (L Mtoma 59'), L Sibanda, M Mlilo (C Sibanda 88')
Highlanders: A Sibanda, A Mbeba, A Faira, M Ndlovu, P Muduhwa, M Mushore, P Ndlovu, E Farasi, L Chikuhwa, M Mushore, M Ncube (C Chigonero 78')
Related Topics