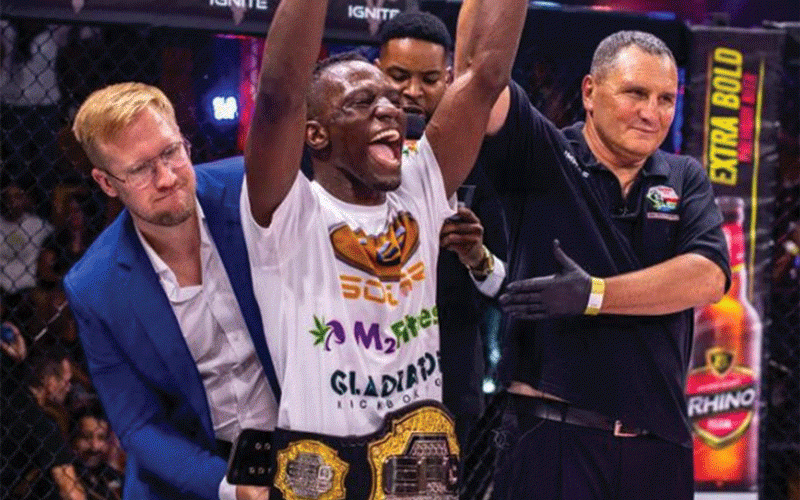 MIXED Martial Arts (MMA) pundit Nicholas Hwende has set his sights on earning a Ultimate Fighting Championship (UFC) contract after successfully defending his Ultimate Fighting Championship (UFC) bantamweight title for the second time last week.
The 26-year-old South Africa-based fighter, who is popularly known as Gokwe Boy, maintained his unbeaten start to his professional career after a dominant victory against South African Roevan de Beer in the co-main EFC 101 event of in Johannesburg on Thursday night.
The victory was Hwende's second successful defence of his title in a space of two months after he beat highly rated Nkazimulo Zulu of South Africa by a unanimous points decision in December last year.
Hwende said he now hopes to earn an invite to compete in the Dana White's Contender Series, a non-UFC promotion in which fighters compete to be scouted by the UFC president Dana White.
"This is an important victory in my career because it's a stepping stone to greatness, so am glad I won as planned to get to another level. Now there's but only one thing left which is to go to the Dana White's Contender Series and get the contract for UFC in July," Hwende said in an interview with NewsDay Sport.
Hwende was at his menacing best on Thursday as he wasted very little time in taking control of the fight early by flooring de Beer.
De Beer, who is renowned for his ground game, tried to cover ground, but Hwende landed some brutal shots, cutting his opponent open.
He got the win a few seconds later, but not the way he expected, as de Beer verbally submitted, after his right shoulder popped out of the socket.
Hwende picked up the win by tap-out due to verbal submission and defended his Bantamweight belt.
"It's challenging facing a new opponent on short notice because the first guy is a striker and I have a different approach now switching to a grappler like Roevan; it's kind of difficult but I had to adjust it and take it as a man. . . Training wise I knew I was prepared for any length and any styleso I would say I was ready for anything... I managed to smash him on his game which is grappling and TKO him," he said.
He also paid tribute to his sponsors M2Bio Sciences Inc, a South Africa-based bioceutical company that focuses on alternative plant-based cannabinoids and mental health therapeutic research.
"I am proudly sponsored by M2bio Sciences. I thank them for supporting me greatly on this journey to greatness," he added.
Hwende has enjoyed a remarkable rise in South Africa since clinching the EFC bantamweight title for the first time in August last year after defeating Brazilian Gian Souza.
The initial win was a momentous achievement for the Zimbabwean fighter who only made his EFC debut two years ago.
Related Topics