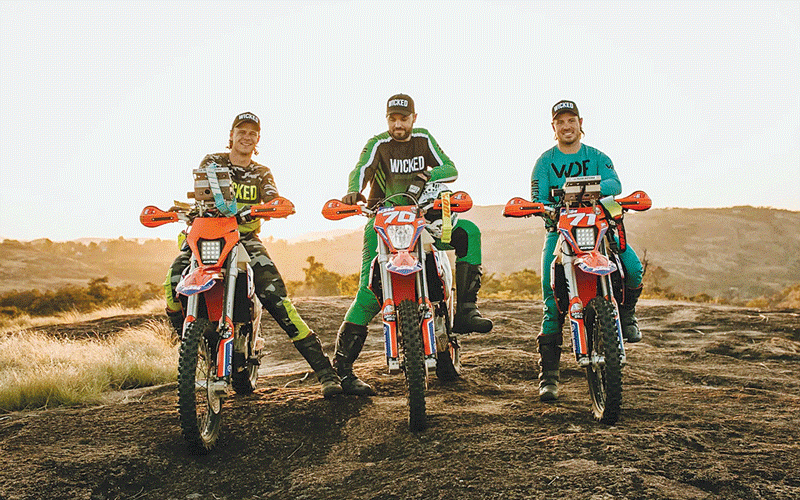 The Zimbabwean trio of motorbike racers comprising brothers Ash and Cameroon Thixton as well as Graeme Sharp are primed for a busy upcoming year starting with the biggest rally and endurance event, the Dakar Rally.
Sharp made history a few years back to become the first rider from Zimbabwe to qualify for the 2020 Dakar Rally, but the Thixton brothers are looking to make their debut appearance at the annual global event which is held in Saudi Arabia.
Ash and Cameroon Thixton are no newcomers to Zimbabwe motorsport, having won countless national motocross championships at different stages of their careers as well as gold medals in international events after 20 years competing in the sport.
The two have now teamed up with Sharp in a bid to hoist the country's flag at the Dakar Rally in an initiative which they have dubbed Dakar 263.
Cameron, who is the younger of the two brothers, revealed preparatory plans for next year.
"So far, the preparations have been going well for the 2024 Dakar. We have been training hard both on and off the bikes. In 2023, we will go on to race many events which are part of the World Series, some of these being Sonora Rally in Mexico, Saudi Desert Challenge in Saudi Arabia, Rally du Raroc in Morocco, to name a few," Cameron Thixton said.
"In 2022, we went to Spain and took part in a Viladoms Rally Station training school, which was extremely beneficial. It was to help us learn how to read the road books which, in tur,n will be our only guide through the Dakar.
"As a team, we want to raise awareness to a younger generation that a huge event can be done from anywhere if one just doesn't lose hope but keep striving at the dreams.
"The Dakar 263 initiative is to show locals and people abroad our beautiful country, as well as show people that we can be very competitive on the global scale," the 26-year-old rider said.
Initially, the target was to fly the country's flag at the 2023 Dakar Rally, but they could not take part in qualifying events due to lack of resources.
But the trio is on the brink of claiming a big sponsor for the project.
"So far, we are still in negotiations with a big corporate company which will essentially be taking over the entire sponsorship package. We will be very excited to be able to announce this company and organisation early to mid-January," he revealed.
To date, the Dakar 263 project has received support from International Coating Company, MiGym, Flo — For Life Outside, RK Petroleum, Ace Ambulances, The Wicked family and donations from family and friends
Sharp and the Thixton brothers will compete under the BAS Dakar KTM Racing Team.
Follow us on Twitter @NewsDayZimbabwe
Related Topics