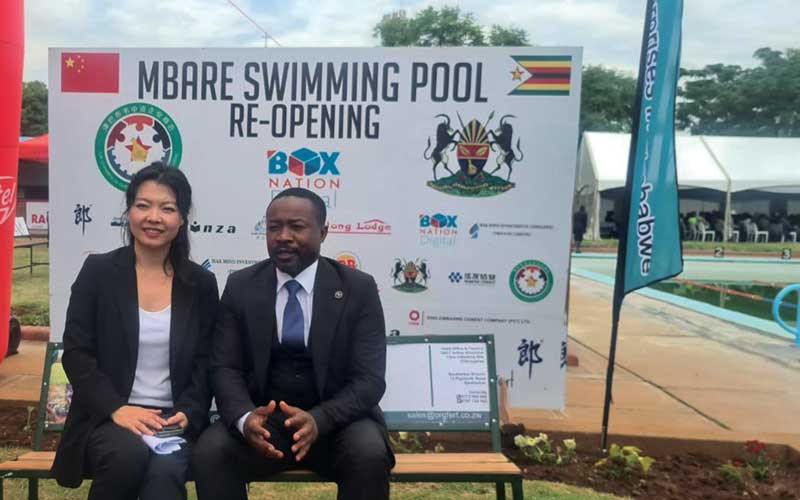 THE Chamber of Chinese Enterprises Zimbabwe (CCEZ) yesterday handed over the fully refurbished George Hartley Swimming Pool in Mbare, Harare, which had been lying idle for over three years.
The swimming pool, situated opposite Stodart Hall, had been in a dilapidated state through wear and tear, vandalism and neglect.
Residents will now be able to utilise the facility after CCEZ injected US$52 000 towards refurbishing the recreational facility.
CCEZ vice-chairperson Shanel Liu said the chamber, a Zimbabwean-registered business association — initiated by Chinese-funded enterprises and institutions — was proud to have contributed to the welfare of the members of the Mbare community through refurbishing the swimming pool.
She said the association was committed to promoting mutual contacts and strengthening business ties as well as cultural exchange programmes between China and Zimbabwe.
Liu said as much as CCEZ seeks to promote business activities between Zimbabwe and China, the organisation also believes in ploughing back into the community in which its members operate through carefully structured and sustainable corporate social responsibility initiatives.
"This commitment has seen us take up this life-changing project to spruce up Mbare Swimming Pool at a cost of US$52 000. The chamber fully understands that the swimming pool serves as a community hub for sports, recreation and leisure, hence we did not hesitate to help renovate it," said Liu.
She said CCEZ was delighted to have breathed life into the facility in which close to 50 educational institutions from ECD, primary and secondary schools in and around Mbare used to conduct swimming training sessions.
"The importance of this swimming pool should never be underestimated as it is not only about recreation but is also a facility that will keep the youths positively engaged off the streets. As they say an "idle mind is the devil's playing ground" we hope to ensure that the youths in Mbare and its environs such as Sunningdale and Ardbennie will now have a healthy pastime which will keep them well clear of the menace of drugs and other vices," she added.
In addition to helping keep the youths off the streets, the swimming pool is a source of employment for those who will be manning and running it and others downstream.
Presently, the chamber has over 80 members operating across the various economic sectors in Zimbabwe such as agriculture, farming, mining, infrastructure development, telecommunication, trade, manufacturing, logistics and transportation sectors.
Receiving the swimming pool, Harare mayor Jacob Mufume thanked the CCEZ for refurbishing the facility without requesting for any other favour from the city council.
"We should applaud such endeavours. We should appreciate as a city when businesses give to the community. A lot of our businesspeople believe they need a piece of land or something to help the city develop, but it is good that a city is built by its businesspeople," Mafume said.
Follow Magreth on Twitter @MagrethRuzvidzo
Related Topics