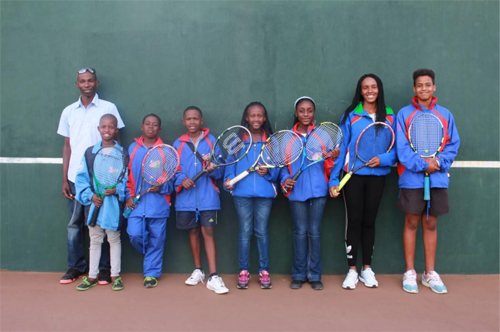 ZIMBABWE made a poor start in the International Tennis Federation (ITF) J5 18 and Under South Central Circuit first leg that got underway at the Bulawayo Country Club yesterday.
Only two boys, Michael Happy and Thabani Nhokwara pulled through from the first round while in the girls' category, only Tinotenda Chipfakacha made it to the second round, with a host of locals falling in the first vetting stage.
Happy accounted for Botswana's Katlego Regoeng 6-1, 6-4 but will have it tough in the second round against the tournament's top seed Marko Milosavljevic of Serbia who sailed through the first round by beating Zimbabwean Blessing Nhokwara 6-2, 6-2.
Thabani had the edge over Edrick Chery of Haiti 6-2, 7-6(6), 6-3 and will face Austria's Jan Hemetzberger in the second round after beating South Africa's Cuan Western 6-3, 6-4 in the first round.
In the girl's section, Chipfakacha beat Botswana's Kagello Malumo 6-0, 6-0 and faces second seed Kaitlyn Leigh Ramduth of South Africa, who had a bye.
In other matches, Mufudzi Mazorodze lost to third seed Joseph Townes 1-6, 1-6 in another first round encounter in the boys' category while Caleb Robb fell to Canada's Jay Lin Gibson 0-6, 2-6.
Simbarashe Chimedza lost 2-6, 0-6 to South Africa's Rudiger Dusselberg while Clandestine Ndiringembi lost to Seabo Saleshando of Botswana 4-6, 3-6.
In the girls section, Regina Zibowa fell to Rethabile Moshoa of Botswana 2-6, 3-6 and Rachel Mizha lost to South Africa's Isabella Basson 1-6, 0-6.
France's Imela Rajaobelina beat Kupakwashe Kanyore 6-3, 6-1 while Tatenda Banhamombe fell to Melisa Mwakha of Kenya 6-0, 6-0.
Tournament director Tarwirwa Chikunichawa said the locals were getting good exposure from players coming from outside.
"It's the first day of the ITF 18s first leg in Bulawayo which is going to run from today to December 5. At the moment we managed to have the first round of our matches go through. We were anticipating some rains but I am glad that the skies kept clear for us. We have got about 70 entries for this event and we have got about 16 countries participating and this is more growth looking at what happened in April and at the inception of the tournament last year.We keep on getting more international players coming in to play, which is positive for our locals," Chikunichawa said.
Zimbabwe is hoping to do well in the second round when some of its top players return from the 2022 AUSC Region 5 Under-20 in Malawi.
Other countries represented in Bulawayo include Botswana, South Africa, Madagascar, Kenya, Haiti, France, Denmark, Japan, Serbia, Belgium, Austria, Switzerland, England and the USA.
Follow us on Twitter @NewsDayZimbabwe
Related Topics