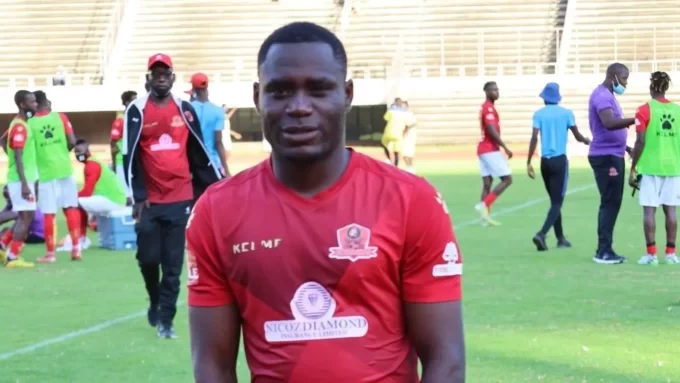 CHICKEN Inn striker Brian Muza could miss Bulawayo's tricky derby in the Castle Lager Premier Soccer League against Highlanders at Barbourfields Stadium on Sunday due to injury.
Muza is on 11 goals, four behind Caps United's William Manondo, but a knee injury at training last Thursday forced him out of the other derby against Bulawayo City at BF last Saturday and now he is likely to miss the Highlanders match.
Coach Joey Antipas yesterday confirmed Muza's injury but said the forward has started light training.
"He has got a bit of an injury but hopefully he will be fit by the weekend. But the main thing is he has got to manage the injury because I can't risk throwing him into the fray because of the Golden Boot. If he is not fit, he is not fit. I need to have players that are fit," Antipas said.
Muza sounded disappointed
"I feel I am still in contention for the Golden Boot but with this injury, it might not be possible. I feel better. At least now I can put the foot down but I can't run. The doctors has given me three weeks to recover," Muza said.
Midfielder Malvin Gaki took away all the plaudits in the Bulawayo City game, notching a brace and providing an assist for Malvin Whata as the GameCocks buried the local authority side 3-0.
The GameCocks are 10 points behind leaders FC Platinum with 54 points under challenge from Dynamos, a point behind and are back home at the weekend to face relegation-fighting WhaWha, who are at the bottom of the log standings.
The last time Chicken Inn and Highlanders met in May, it ended 1-1.
After a blip that took them out of title contention, Chicken Inn have recovered their form and won their last three games in the league as the season draws to the end. Despite losing 3-2 at home to FC Platinum on Sunday, Highlanders are in a better space, after Baltemar Brito replaced Mandla Mpofu as head coach.
Bosso's chief striker Lynoth Chikuhwa has also banged in 10 goals and is competing for the top goalscorer honours.
Follow Fortune on Twitter @fmbele
Related Topics