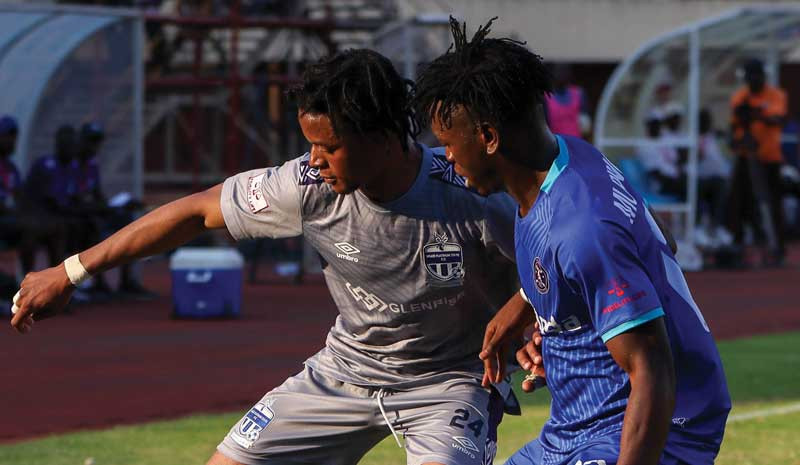 Dynamos . . . . . . . . . . . . . 0
Ngezi Platinum . . . . . . (1)1
DYNAMOS' title push suffered a major blow yesterday after they were well-beaten by visiting Ngezi Platinum to all but surrender the league to rivals FC Platinum, who now lead by 11 points with only six matches left in the campaign.
FC Platinum played earlier on Saturday and saw off Bulawayo City 1-0, putting pressure on DeMbare to respond.
Chicken Inn also defeated WhaWha by the same score line on the same day to climb back into second place with 51 points.
Dynamos badly needed a victory to keep pressure on FC Platinum in a bid to take the race to the wire, but found Ngezi difficult to break down. The visitors stared down their more illustrious opponents and raced into the lead on four minutes courtesy of a stunning volley outside the penalty area by Delic Murimba which beat goalkeeper Frank Kuchinei hands down.
Yet, it was Dynamos who could have opened the account a minute earlier had Emmanuel Paga not reacted slowly from five yards out.
The defeat was met with a chorus of disapproval from the team's supporters who broke into the song Muregei aende hake! directed at coach Tonderai Ndiraya.
Ndiraya afterwards admitted that their interest in the title race was over. He also said the anger of the supporters was justified.
"Is it still possible? It is no longer in our hands, 11 points behind with six games to go, it is difficult," he said.
"The fans are justified, they want the team to push all the way. They wanted the team to push FC Platinum to the limit. We wanted a result which was going to give us a mathematical chance of being in the game and that didn't happen. So, they are justified. If it were me I was going to be angry also.
"They (fans) want their team to win and when they don't win its disappointing so they are disappointed as much as we are. But I thought we conceded a silly goal and from there we never recovered in the first half. We failed to apply basic defending principles, we allowed the striker all the space to pick up spot and hit that shot. So, it is disappointing from that angle. In the second half we were a bit changed, we had so much control and created chances but again we keep mourning about wasted chances. We got chances in the first half which we were supposed to put away. From that angle its very disappointing."
His counterpart Takesure Chiragwi was understandably delighted.
"I don't want to say a lot except to congratulate the boys. They did exactly what we practiced at training. We played away and managed to win the game. In the first half we had a lot of domination. I think we did very well in terms of ball retention. We created a chance and managed to score. At the break I told the boys we need to consolidate our lead and to do that we had to change the formation to a 4-4-2 because we wanted numbers at the back," he said.
The win lifted Ngezi Platinum to fifth position on the log standings with 43 points.
Related Topics