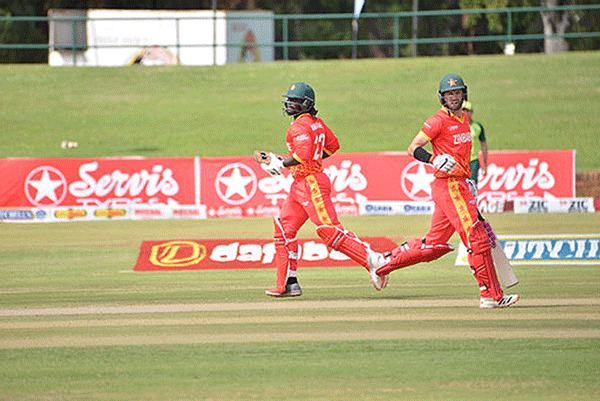 BY FORTUNE MBELE/Tawanda Tafirenyika
SPORTS associations yesterday said they would soon engage the government in a hid to have the suspension of sporting activities lifted following a ban that took effect yesterday as a mitigatory measure against the spike in new COVID-19 infections.
Vice-President Constantino Chiwenga, who is also Health minister announced a blanket ban on public gatherings and yesterday the Zimbabwe Cricket (ZC) became the first association to implore the government to lift the ban.
The senior men's national team is hosting South Africa A and started a four-day match on Sunday.
ZC wants to be allowed to finish off the match and to continue preparations for the July home tour against Bangladesh.
The ban by the government has put the Bangladesh match into doubt.
Football is also hoping for a quick return after the Chibuku Super Cup that had been played in the last four weeks was affected.
A surge in new COVID-19 cases in the country forced government to revise its lockdown regulations, but the decision has been met with a lot of disappointment in the sporting sector.
"All sporting activities and events are hereby suspended with effected from Monday June 14, 2021 (yesterday) until further notice. All national sports associations, clubs, gym and related stakeholders should abide by this suspension without exception," read the SRC statement released on Sunday.
However, the SRC said it was aware of national sports commitments that are ongoing and upcoming ". . . and will be in urgent direct communication with the relevant national associations thereof on guidance and other mitigatory measures in light of the suspension."
Zifa spokesperson Xolisani Gwesela yesterday said they were negotiating with the government to map the way forward following the new decree.
"We are currently engaging the government on the matter, to map the way forward. Whatever we will do will be guided by the government," he said without elaborating.
ZC is optimistic that the government will give them a favourable response.
"Following a directive to suspend all sporting activities in the country as part of the latest COVID-19 lockdown restrictions imposed by the government with effect from today (yesterday), Zimbabwe Cricket (ZC) has temporarily put on hold all cricket activities including the four-day match between Zimbabwe A and South Africa A which started on Sunday," a statement released yesterday read.
"ZC has, however, lodged an urgent appeal to the government, through the Sports and Recreation Commission, for permission to complete the ongoing four-day international match as well as to continue with preparations for other upcoming international tours that we had already committed to. As we make this request, the health and safety of our players, support staff and our communities remains our top priority."
Spokesperson Darlington Majonga said they have previously held international tournaments under the COVID-19 circumstances and adhered to strict protocols.
ZC hosted Pakistan where they played in a bio-bubble. Domestic cricket was also held in a controlled environment.
Zimbabwe Rugby Union president Aaron Jani said they will be engaging SRC so that the Sables and women's teams can get enough preparations for the Africa Cup.
"It's obviously a very difficult situation. Last week we had applied that the Harare province start their league, but that is now on hold. The Sables and the ladies will be involved in the Africa Cup. What we are doing is that we are going to engage the SRC to see how we can ensure that there are adequate preparations for the international games," Jani said.
Tennis Zimbabwe recently hosted the J5 International Tennis Federation (ITF) South Central Tournament which ended in Bulawayo on Saturday and had a number of tournaments lined for the City of Kings and Harare.
The association's manager Cliff Nhokwara said: "Whilst at face value it is a suspension, if you look at that statement, there is room to negotiate with the SRC for international events. We also don't know how long this is going to be and they have said they will get in touch with international federations on the way forward. For tennis we are a non-contact sport. We have not had any COVID-19 cases and we don't allow any spectators. And for the players, each comes with one coach or a parent as a safety precaution."
The Warriors have World Cup qualifiers coming up in September.
Follow Fortune on Twitter @FortuneMbele