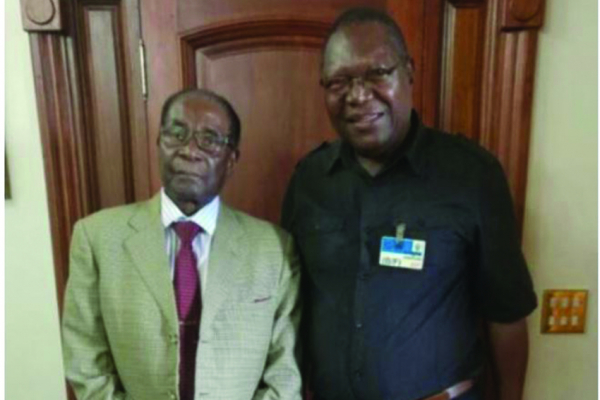 THE ruling Zanu PF party has reportedly been thrown into panic mode following the emergence of a new political party, New Patriotic Front (NPF), which is believed to have strong links to former President Robert Mugabe and the G40 faction, and is aimed at chewing into President Emmerson Mnangagwa's support base ahead of this year's general elections.
BY BLESSED MHLANGA/KUDZAI MUCHENJEKWA
Zanu PF's fears were triggered by reports that NPF interim leader, Ambrose Mutinhiri met Mugabe at the former President's house in Harare and the pair's discussions were centred on strengthening the new party to challenge Mnangagwa's "coup government" in the forthcoming polls.
The development jolted Zanu PF spokesperson Simon Khaya Moyo to hastily call a Press conference yesterday where he fired potshots at Mutinhiri and Mugabe for attempting to impugn the legitimacy of Mnangagwa's government.
"Zanu PF has noted with grave concern, attempts by certain elements of the society, including small political parties and the media, to impugn the legitimacy of the presidency of Cde ED Mnangagwa on the false premise that his ascendancy to the highest office is a consequence of a military coup," he said.
"It could not have been a coup because if it was, then someone would have taken over, but he remained in charge, he only resigned after democratic processes of impeachment against him had been opened in Parliament.
"He was in charge of the military at the time of the intervention."
Lately, Mugabe has not hidden his bitterness over his forced retirement in a military takeover to pave way for Mnangagwa.
Mugabe recently accused Mnangagwa of hounding him out of power through the barrel of the gun, and labelled his presidency as undemocratic.
Moyo, however, said Mnangagwa and Zanu PF were unaware of the former President's unhappiness and complaints because he had not raised it when the two held private conversations.
"If he has any complaints, we are not aware of them, he is a seasoned politician, he could have brought it up with the incumbent because they have known each other for a very long time," he said.
Moyo also warned that Mugabe might lose his multiple farms.
However, NPF spokesman, Jealousy Mawarire insisted that Mnangagwa had grabbed power, and denied claims Mugabe was behind the NPF project.
"[Former] President Robert Mugabe has no role in NPF except that he is free, like any other Zimbabwean, to support the party, or any other political outfit he deems fit," he said.
"However, as NPF members and leaders, we are cognisant of the immense role he played as the founding father of our republic, therefore, we are proud to regularly drink from his deep wealth of experience in politics and national governance."
A picture of Mugabe meeting Mutinhiri circulated online, with the former President said to have offered advice to the upstart political formation.
"I hope your NPF party will empower the youths to takeover," Mugabe is said to have told Mutinhiri.
"Don't oppress them; make sure they are not harassed."
Mawarire said the NPF leader met Mugabe at the weekend to apprise "him on the launch of the party", which is linked to the veteran leader and his wife, Grace as well as exiled former Cabinet ministers Jonathan Moyo, Patrick Zhuwao and Saviour Kasukuwere.
"The purpose of the courtesy call was to apprise President Mugabe of Cde Mutinhiri's bold and inspiring resignation as well as to thank the President for having afforded Cde Mutinhiri a cherished opportunity to work with and under him in various national capacities," an NPF statement said.
"Cde Mutinhiri also took the opportunity to inform President Mugabe of the formation of the NPF by a cross section of Zimbabweans including but not limited to Zanu PF members, who are outraged by the unconstitutional and humiliating manner in which President Mugabe was criminally ousted from the leadership of both Zanu PF and the country by really criminals (sic), who have shamelessly damaged Zimbabwe's fledgling constitutional democracy and dented the professional reputation of the Zimbabwe Defence Forces.
"On the prospects of NPF, Cde Mutinhiri told President Mugabe that following extensive consultations that have been going on since November 19, 2017, he can say with absolute certainty that out of every three Zanu PF members; at least two are solid NPF, while the remainder are still hedging their bets, waiting to see where the wind is blowing."
At the meeting, Mugabe was reported to have said: "Everyone should fight to ensure that people are free to belong to parties of their choice and that there is no interference by the army or those that would want to resort to violence as a means of getting votes.
"I know they will be harassed and some arrested, but empower them mentally to fight for what is right."