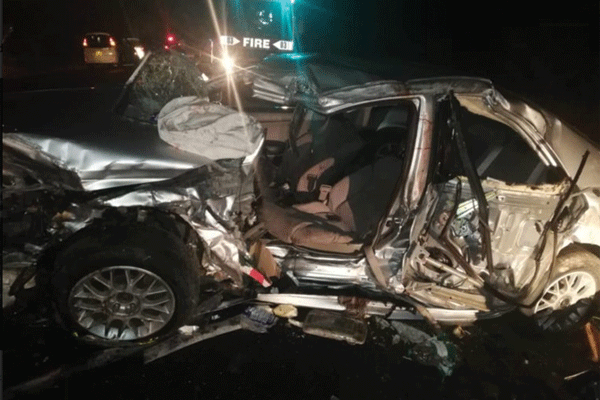 BY OBEY MANAYITI/BRENNA MATENDERE
THE late MDC leader Morgan Tsvangirai's daughter, Vimbai Tsvangirai-Java, was seriously injured in a fatal head-on collision, which claimed two party members just outside Kwekwe on Monday night.
They were driving from Bulawayo, where they had gone for a party caucus meeting.
Her campaign manager and organising secretary for her Glen View South constituency, Paul Rukanda, and Tafadzwa Mundwa, her late mother Susan's cousin, succumbed to injuries sustained in the accident after they remained trapped in their vehicle for over an hour before emergency services could be secured.
Police also reportedly arrived late to attend to the accident.
MDC spokesman Jacob Mafume yesterday said Tsvangirai-Java, who was transported by ambulance to a Harare private hospital, was in a "stable condition".
Yesterday, President Emmerson Mnangagwa sent a condolence message to the families of the deceased MDC members and wished Tsvangirai's daughter a speedy recovery.
Mnangagwa tweeted on his official Twitter handle @edmnangagwa: "Very sorry to hear of the tragic car crash that claimed the lives of two committed MDC activists and injured Vimbai Tsvangirai. My thoughts are with the loved ones of the deceased, and I join the Tsvangirai family and the nation as a whole in praying for Vimbai's speedy recovery."
Batsirai Java, Vimbai's husband, said: "I am happy to inform you that so far, she is out of the danger zone, that she will need a minor surgery on the shoulder, but there are no internal injuries, no shock trauma, no head fracture or haemorrhage. God has saved her."
The Tsvangirai family spokesperson, Manase Tsvangirai, said they were saddened by the accident.
He said Vimbai was recovering well, adding that only a few people were allowed to visit her private hospital bed.
"You don't plan for an accident, but it just happens in a twinkling of an eye and life can be lost in that moment. We are sorry for those who lost their lives. We are with them in mourning and for Vimbai, we thank God that she is out of danger,"Manase said.
Acting Midlands Police spokesperson Assistant Inspector Ethel Mukwende said she was yet to get a briefing on the accident.
There was an outpouring of condolence messages yesterday as people wished Tsvangirai-Java a speedy recovery.
The opposition party's Harare provincial chairman Wellington Chikombo expressed sadness over the accident.
"Our thoughts and prayers go out to Mhundwa and Rukanda families," Chikombo said, adding that Rukanda was an inspiration to him and he was a person who would encourage others to be better, stronger and loyal.
Chikombo said Rukanda's death had left a void in Harare and his contribution to the political struggle in Zimbabwe would be missed.
MDC Midlands provincial spokesperson Takavafira Zhou also expressed shock at the tragedy.
"We have, indeed, been robbed of dear comrades at a critical juncture of our struggle and when we needed them the most. Their blood will continue to water our spirit of liberty, and quest for democracy and egalitarianism. May their souls rest in eternal peace," he said.
A witness told NewsDay yesterday that the driver of a car that was travelling from Harare tried to overtake a haulage truck at a blind spot, leading to the head-on accident.
"The driver of a car from Harare was wrong. He tried to overtake a haulage truck at a blind spot, which is a curve. He did not wait to see what was coming from the opposite side. The driver just got impatient and it was very sad," the witness said.