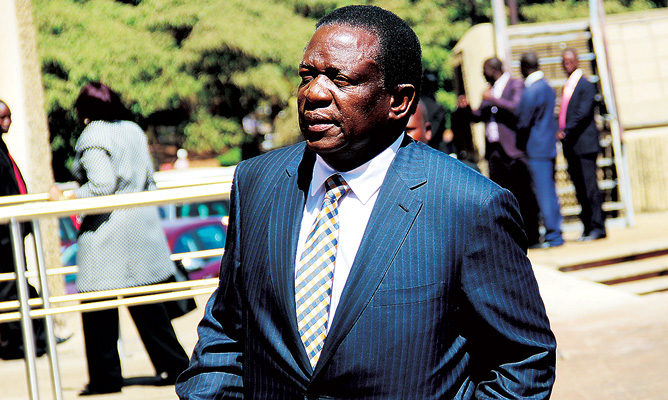 THE Zimbabwe National Liberations War Veterans' Association (ZNLWVA) has warned Vice-President Emmerson Mnangagwa to remain vigilant and avoid being lulled into a false sense of security despite recent assurances by President Robert Mugabe and his wife, First Lady Grace Mugabe, that his post was safe.
BY RICHARD CHIDZA/OBEY MANAYITI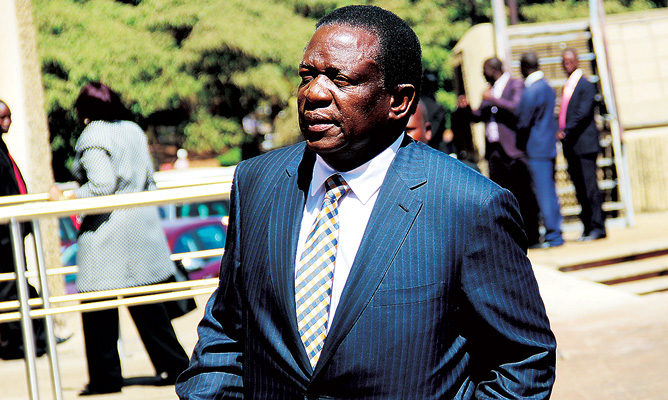 Mugabe and Grace last week took turns to publicly declare their support for the embattled Mnangagwa in what observers said was a sign that reports of a sinister push to have the VP dropped were true.
ZNLWVA spokesperson Douglas Mahiya yesterday said Mnangagwa should be more careful now more than ever, given that a few months ago, Zanu PF hawks publicly campaigned for him to be stripped of his post and replaced by a female candidate.
"Nothing has changed. If anything, they want to push him into a false sense of security before striking when least expected," Mahiya said.
"Experience tells us that the enemy is most lethal at times like these. Publicly they are making pronouncements that seem to indicate the war is over, but, in fact, they are preparing for a final devastating assault to deliver the killer blow.
"It's a decoy because the same chairpersons owe their allegiance to the same group that wants Mnangagwa removed. They will stampede to applaud anything their masters will say. We are aware that the plan is a naked assault on anyone who is a war veteran or connected to the war. Mnangagwa is just a microcosm of the war veterans' fraternity, the same fighters who delivered victory, only now to be rejected by their leader."
It is understood that Mnangagwa reportedly draws his support from the war veterans, whose relationship with Mugabe has hit rock-bottom in recent months after they described the veteran politician as a "dictator".
Mugabe, reportedly the brains behind a faction of Zanu PF known as G40, last week sought to reaffirm his confidence in Mnangagwa following months of internal rancour including declarations from some party members targeting the Vice-President.
Grace also chided plotters and declared that the women's league was not targeting Mnangagwa.
Mnangagwa has been under fire from party apparatchiks connected to the G40 faction such as Hurungwe East MP Sarah Mahoka's rant in February and Manicaland Provincial Affairs minister Mandi Chimene's unrestrained attack in July, as well as her call for an extraordinary congress, which she claimed at the time had the support of the women and youth leagues.
But, Chimene's ally, George Mlala, yesterday made a U-turn, saying war veterans had no business meddling in Zanu PF succession politics.
"As war veterans, we don't direct the party. I am on record saying war veterans are a product of the party and we are a military wing of Zanu PF," he said.
"If you hear a war veteran saying this person must go or that person must stay, then they are not doing it as war veterans."
Mlala described Chimene's anti-Mnangagwa remarks as "personal".
"I don't agree nor disagree. I don't know what her personal opinion is all about. We are the military wing of the party that takes orders from the party and we don't have a say in Zanu PF affairs," he said.
"We listen to the party. We can't tell the party that let us go for an early congress," he said.