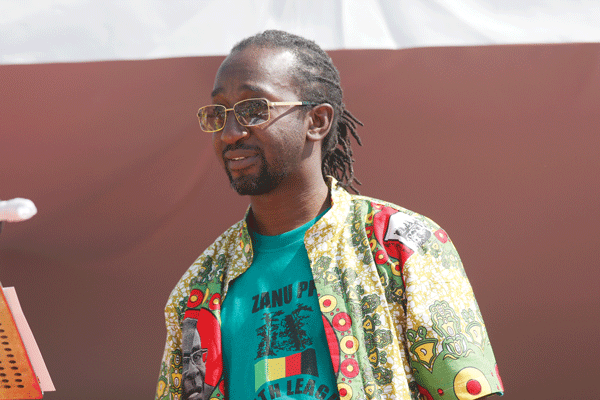 PRESIDENT Robert Mugabe's nephew, Indigenisation minister Patrick Zhuwao, yesterday dared Zimbabwe Defence Commander Constantino Guvheya Chiwenga and Air Marshall Perrance Shiri to stay clear of Zanu PF's ugly succession politics or take off their camouflage and join fulltime politics.
BY OBEY MANAYITI
Zhuwao's remarks came after Chiwenga and Shiri recently issued a series of warnings targeted at Zanu PF Young Turks opposed to Vice-President Emmerson Mnangagwa's bid to succeed Mugabe.
The army's top brass has particularly been miffed by Higher Education minister Jonathan Moyo's relentless attacks on Mnangagwa.
Chiwenga last week ordered Moyo to tame his tongue before Shiri joined in the fray labelling the Tsholotsho North MP as a "war deserter" who later worked closely with Ian Smith's Selous Scouts to fight liberation war fighters.
Moyo, Zhuwao and Zanu PF national political commissar Saviour Kasukuwere are believed to be part of the ruling party's G40 faction, which is strongly opposed to Mnangagwa's succession bid.
"I do not recall the military accusing me of anything apart from the vacuous nincompoop who sought to threaten me near Inkomo Barracks," Zhuwao said. "Such cowardly individuals must retire their uniforms and join the political playing field so that we dress them down properly."
Meanwhile, war veterans' leaders who have declared their allegiance to Mnangagwa yesterday accused Mugabe of deliberately protecting G40 faction leaders so that they help to groom his daughter, Bona, for a higher political office.
Zimbabwe National Liberation War Veterans' Association (ZNLWVA) secretary-general Victor Matemadanda said Mugabe was reluctant to rein in G40 leaders because he wants to create a family dynasty, where his daughter becomes an influential political actor.
Bona was recently appointed Censorship Board member and the soon-to-be-launched Empowerment Bank board.
Already Mugabe's wife, Grace, has had a mark in Zanu PF politics with the majority of her rivals falling by the wayside.
"Now they (G40) are saying if they cannot put (Defence minister Sydney) Sekeramayi, they will opt for Bona. They are saying they were asked to initiate Bona into leadership. This is what they are saying. They are saying they have been told by the President to groom Bona for leadership and they are boasting about it," Matemadanda said.
"If it is true that they are nurturing people like Bona to take over, then the President will never act on their (G40) misdeeds. If it's not true we must be seeing the President acting."
"Normally, we would not have a problem with a person wanting to rule, but when it is creation of a dynasty then it will be resisted. If it was someone else and not the President's daughter being hand-hold like this, there would be no problem," he said, adding people will have to fight against dynasty considering that the people have suffered under the leadership of Mugabe.
However, Zhuwao hit back at Matemadanda, describing him as a madman.
"Some of these unrepentant successionist fools and idiots are clearly frustrated by their inability to influence the complex political dynamics of this great nation. They fail to understand that leadership emanates from the people and not from some misplaced notion of entitlement devoid of vision and direction," he said.