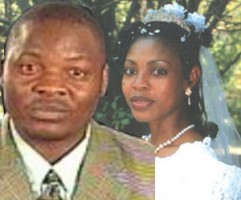 FRIENDS of the late united MDC spokesperson Learnmore Jongwe, who died in remand prison while awaiting trial for allegedly murdering his wife 11 years ago, will today commemorate his life in South Africa.
Report by Moses Matenga
Jongwe was born on April 28, 1974 in Zhombe and would have turned 39 tomorrow.
He died behind bars in October 2002 for allegedly stabbing his wife Rutendo Muusha to death after a suspected domestic dispute.
A close friend of the late Jongwe, Daniel Molekele, who is a member of the steering committee organising the event, told NewsDay that all was set for the remembrance.
He urged Zimbabweans based in South Africa to come in their numbers.
"The venue has been confirmed as the Holy Trinity Catholic Church in Braamfontein (next to Wits University). We are appealing to Zimbabweans from all walks of life who are based in South Africa to attend the event," he said.
The team met the Muusha family this week and agreed that from now onwards the memorial trust would freely focus on both the late Learnmore and Rutendo's legacy.
"Rutendo's brother, Munyaradzi, will be able to attend and represent the Muusha family interests," said Molekele.
Distinguished guests scheduled to attend include Information Communication Technology minister Nelson Chamisa,
MDC-99 leader Job Sikhala and MDC policy director Qhubani Moyo .