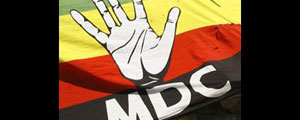 A SUSPECTED MDC-T activist Ishamael Kauzani appeared in court yesterday charged with attempting to overthrow the government, attempted murder and malicious damage to property after he allegedly burnt Zanu PF Machipisa offices and the party's printing Press, Jongwe Printers.
BY PHILLIP CHIDAVAENZI,SENIOR REPORTER
Kauzani (39) who is of no fixed abode, was remanded in custody to November 28 when he appeared before Harare magistrate Donald Ndirowei. He was advised to apply for bail at the High Court.
Prosecutor Sharon Mashavira told the court that on September 28 this year, Kauzani teamed up with one Collins Chisunga and several others, and hatched a plan to attack Zanu PF offices at Machipisa in Highfield.
Chisunga has since been arrested in connection with the case while the other suspects are still at large. It is alleged that the group proceeded to Zanu PF offices at Machipisa Building along Jabavu Drive in Highfield where they set the offices on fire using unknown implements. All the accused are said to have escaped from the scene after lighting up the property. The fire burnt 20 wooden benches, two tables, several books, a gas cooker, mobile phones and other properties, the court heard.
The fire is said to have extensively destroyed the building walls and roof. The total value of the destroyed property is yet to be established. According to the annexure attached to the State papers, the attack was part of a secret operation code-named Operation Bravo II which is spearheaded by former members of the country's defence and security forces. The annexure further highlights that the plotters left the security forces due to incarceration and torture, political victimisation and economic hardships.
"It is our position that no one else is to blame for the broad range of problems affecting our country than President XX, his party, corrupt ministers and politicised commanders of defence and all other security forces," read part of the document.
"These people are illegitimately ruling our country through rigging elections, intimidation and assaults on opposition leaders."