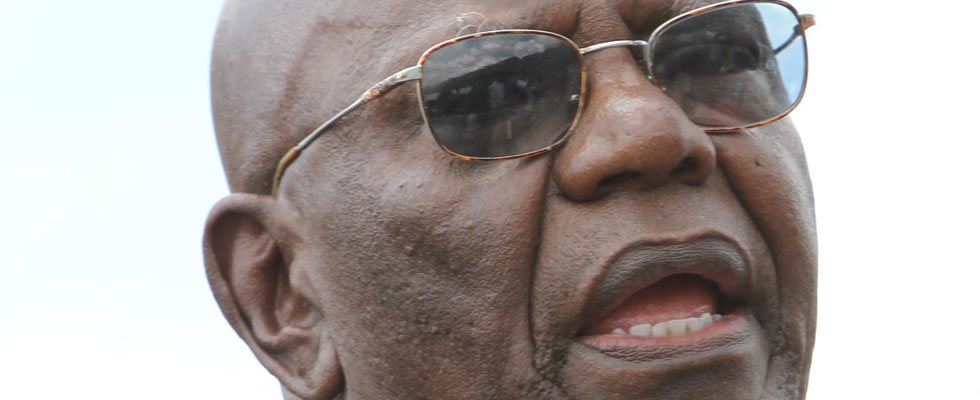 In a twist of events within the fractured Zanu PF party, secretary for administration Didymus Mutasa yesterday said Information minister Jonathan Moyo had solicited his help to dispute media reports that the party's politburo had gagged him.
BY CHIEF REPORTER
The Presidential Affairs minister also accused the public media of fanning divisions in the party by deliberately shutting out some officials while advancing the interests of certain individuals.
Mutasa said as a government official, he had never been portrayed positively in the public media, forcing him against his will to use the private Press which he described as "Tsvangirai media", on account of its alleged support of MDC-T leader Morgan Tsvangirai.
Mutasa held a media briefing yesterday morning where he told journalists he had been asked by Moyo to tell them that the Information minister had not been gagged from speaking to the media about events obtaining in the party.
The development follows last week's chaos that saw the party communicate contradictory messages over provincial election results. "The reports are untrue and the politburo did not gag minister Moyo," Mutasa said.
"If we gag Moyo, we are doing a disservice to us as government and the party. We want him to be our mouthpiece to advance ZimAsset (Zimbabwe Agenda for Sustainable Socio-Economic Transformation) and do other things the President assigns him."
Mutasa also denied that the Saturday politburo meeting discussed the wrangles that erupted last week between Moyo and Zanu PF spokesperson Rugare Gumbo.
Moyo last week waded into a verbal altercation between Gumbo and Presidential spokesperson George Charamba over the party's Mashonaland Central provincial election results. While Gumbo confirmed the results of the elections, Charamba claimed he had been sent by Mugabe to announce that the politburo was still to endorse the outcome. Gumbo countered Charamba's claims, courting the ire of Moyo who accused him of disobeying Mugabe's orders. Gumbo fired back and labelled Charamba and Moyo "tricksters" who were hiding behind Mugabe to advance their ulterior motives.
Mutasa said he would have wanted Moyo and Gumbo to be at yesterday's media briefing so they could show the media they had reconciled.
"If you take Zanu PF as a private company, I am the chief executive officer. I have the task to have the two reconcile, to get the two to work together for the good of the party and the country. There will be no progress in this country when there is disunity within the leadership," Mutasa said.
"Last week's wrangles were unfortunate. They were propelled by you (journalists) who work for papers. You are keen to see us (leaders) fighting. Please stop this. Respect us as your leaders. Please leave us alone. Do not make us fight. If you are reporting about me, do it correctly.
"You have never seen me being reported in The Herald correctly, not even in our paper in Manicaland (Manica Post). It reports terrible things about me. I never complained because I knew nobody would hear me."
Mutasa added: "Even my pictures are not published yet I am the secretary for administration of the party. Why someone under the Zimbabwean sun should do such a silly thing, I don't know. I don't blame Moyo, or Shamu (Webster — former Information and Publicity minister), but you the media who work under us who have chosen to be conduits of some political agenda."
He said he had even asked Moyo yesterday why he decided to send him to address the public media which he claimed was constantly on his neck.
Last week, The Herald ran an editorial labelling some Zanu PF officials "dwarfs in huge robs", statements Mutasa claimed referred to him.