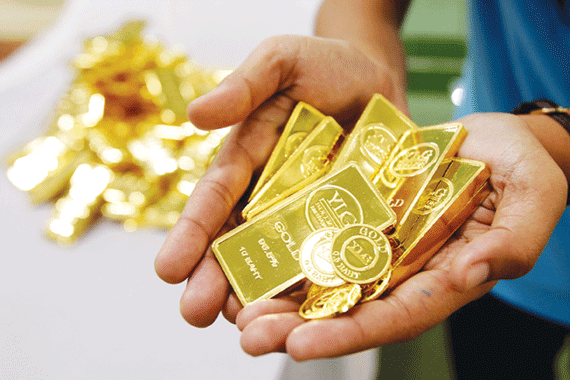 IT is indeed in times of crisis and turmoil that the creativity of nations emerges and in my opinion, the idea of launching gold coins by the Reserve Bank of Zimbabwe (RBZ) is a master stroke that could, if implemented correctly, create a popular alternative asset class for both institutional and individual investors who seek to preserve value over time.
World-wide gold coins remain a popular asset class and in countries such as India it has become a household investment for many.
Zimbabwe is estimated to have 13 million tonnes of gold reserves lying in the ground worth US$65 trillion and there is no reason why we are poor.
Sadly, we only officially extract 30 tonnes per annum, but it is estimated that around 70 tonnes per annum are unaccounted for and smuggled out of the country prejudicing the economy of much needed foreign currency.
Of the total 30 tonnes officially exported, about 65% of it is extracted by small scale miners who have handlers in Harare, meaning that the average korokoza works for someone else in Harare.
This has obvious income redistribution issues in that an elite few are the ultimate beneficiaries from the proceeds.
So even though we are increasing our gold export revenues as a country, the wealth being created is concentrated in a few hands and is not benefitting ordinary citizens.
Having said the above, the idea of gold coins has a redistributive impact in that now anyone who can afford can own a piece of our gold endowments.
What will be key are the institutional arrangements and the fungibility (tradability) of the coins. They must be readily available and freely tradeable for them to have the intended impact.
The gold coin is among the most preferred choice on investment in countries such as India, especially with loan and saving schemes. Gold coins are a low risk investment, which offer excellent security over a long period of time.
A tangible asset with good market value for centuries, buying gold almost assures good market returns over a long period of time.
While other investment options might be risky gold has tended to be relatively stable.
The enemy of the people is inflation, which we are experiencing in Zimbabwe. Gold coins can be a hedge against inflation over the long term.
It is, therefore, a reliable, tangible and secure asset class for long term savings for pension funds and individuals. What will be key is the ability to buy and dispose the gold coins.
The idea is that one can walk into a bank and buy the coins which can be held in custody and a certificate can then be issued.
The certificate must be a tradeable instrument and can, therefore, be sold and redeemed for cash at any instance at the ruling market price. One can also get the physical coins and safely store those.
The value of the asset will be determined by the international gold price and the supply and the demand of the coins.
The best part of gold coins is that, unlike other tangible assets, there are no maintenance costs at all.
Price stability as opposed to price volatility is another added feature of gold coin investments.
Historically the price of gold has never fallen by a huge margin and actually increases in times of crisis making gold a safe investment.
Transferability is a key characteristic of gold coins in that they can be easily transferable among investors or families for generations without hassle. Most people give gold coins to family as gifts during important events such as birth days or weddings in order to safeguard their future.
Gold coins do not lose their shine and value over the long term and their value keeps increasing with age.
Despite market volatility of other assets, gold coins tend to keep their value and are synonymous with stability, security and longevity.
Of course, gold coins can also be used as security for loans by banks and micro-lenders and this will open up opportunities of access to credit for many.
It is critical that the purity of the gold coins be kept consistent by Fidelity Printers and Refiners and the coins must be certified.
The RBZ needs to establish a standards entity which certifies the quality and genuineness of the gold coins to avoid fraud. This remains the risk, especially in Zimbabwe where people have become very creative in coming up with scams.
There is always the possibility of abuse as we have seen in Zimbabwe and both authorities and investors need to be on the lookout and ensure that the gold coins become a safe and preferred investment asset.
Given the continually deteriorating value of the Zimdollar we may see people preferring to also use the gold coins as a currency, but that is not the intention here.
The quantum and quality of the gold coins needs to be controlled to ensure that they do maintain their value.
What I am not sure of is whether they will be freely exportable, and if that is the case, it will open up the international market where foreigners can also participate in the buying and selling of the coins. That would be for me the preferred route if we are to see migration from the US dollar to gold coins.
There so far has been no clarity on the denominations of the gold coins, but one expects 5,10 and 20 gram denominations to allow broad access.
The depth of the investment market will be determined by the creativity of our financial sector and one expects investment vehicles that will offer gold coins as an underlying asset.
For example, one does not have to invest directly in the gold coins, but can investment in an investment fund which in turn invests in gold coins. This will increase investment options for both institutional and individual investors.
As I mentioned before, I would like to believe that the RBZ has done its homework on the necessary institutional arrangements which have to be in place and the associated risks that come with the asset.
The latter needs to be managed effectively, but the key issue will be quality, certification, fungibility and open market valuation of the gold coins.
This is the value-addition we continue to talk about and as always, value-addition comes with a myriad of direct and indirect market and industry linkages which can all benefit the economy.
In my opinion the RBZ has done well to introduce the gold coins and please let us implement this effectively so that many can benefit from one of our God-given assets.