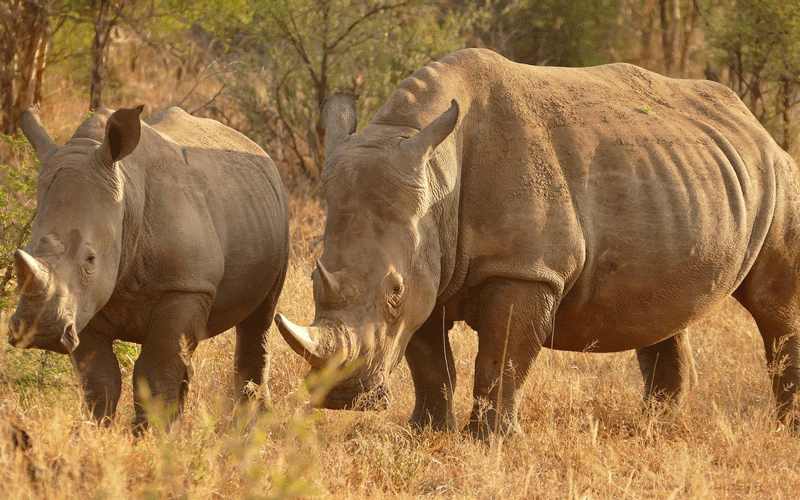 SET among fairy-tale forests along the shores of the Zambezi River, Mana Pools is a veritable feast for the senses; an emerald city of sparkling greens and blues in the rainy season, and a golden cathedral of warm dappled light during the dry months.
It's an enchanting environment of pristine African wilderness that is just waiting to reconnect travellers to the natural world.
This 2 500km2 of untouched bush is one of the continent's least visited but most loved national parks.
Designated as a UNESCO World Heritage Site in 1984, Mana Pools is encompassed by safari areas and concessions that create an unfenced wilderness of around 10 500km2, in which wildlife is free to roam.
It's a part of Africa that is spoken about in hushed conversations and whispers; reverential tones alluding to a more spiritual connection than a simple holiday.
That's Mana Pools for you, though, a place so achingly photogenic that it surely had to have been blessed by some deity. When you go on safari to Mana Pools, you are truly immersed in nature; your senses alive and piqued at every single moment.
Here are just five of the hundreds of wonders to love about Mana Pools:
A Zambezi sunrise
Dawn is never a silent thing in the wild; it doesn't arrive unannounced, especially in Mana Pools. Rather it has its own parade; a bevy of wildlife eager to declare that the sun is on its way.
You'll wake up to the cooing of a Cape turtle dove (also know as a ring-necked dove), the quintessential background noise to any African bush setting.
The dulcet grows ever stronger: a flock of helmeted guinea fowl, sleeping in the riverine trees, trill their presence across the park; a grey-headed bush shrike whistles in the shrubbery. Hippos yawn and grunt just a short way away in the distance.
A pair of rare African skimmers fly low over the glassy waters of the Zambezi, bottom beaks tracing lines on the surface; an African fish eagle throws his head back and welcomes the new day with his iconic call.
Plovers, sandpipers, curlews, lily-trotters, yellow-billed storks, and spoonbills all add their voices to this magnificent cacophony.
The African sun breaks over the horizon, brilliantly incandescent; a blush of scarlet, the warmth of tangerine.
The Zambezi River, like a sluggish serpent, wraps itself around islands and rocks; the morning mists rise, revealing waters stained ruby from the emerging sun.
Freedom
Mana Pools is the only national park in Africa where you can walk freely without being accompanied by a professional guide.
This makes it a firm favourite for those that love the freedom, but who are old-hands at being in the bush.
Newbies to the park are advised to hire a guide, not just for safety, but to get the most out of the experience as they can.
Walking safaris in Mana Pools are an all-around sensory experience, and it's the best way to see, hear, and feel Africa at her best.
As you move out of the dense riparian vegetation, the vast floodplains open out and there is very little "jesse" bush, which makes it much easier to spot the wonderful wildlife.
There are golden coated impalas nibbling the grass, mischievous baboons up to their foolish antics; dainty kudu, who seem all ears; you may also spot a colossal eland.
The wildlife in Mana Pools is so accustomed to humans walking, that they barely seem to notice, and this allows for incredible up-close encounters.
I'm talking about being surrounded by a pack of six/ African wild dogs allowing you to watch while they fed their pups at the den, or, being able to see the toenails of an elephant, as it reaches for the branches above you. There's simply is no other place to experience the wilds of Africa like you can on foot in Mana Pools.
The surreal light
Mana Pools is a photographer's paradise; a place where the light varies dramatically throughout times of the day.
Early morning is accompanied by the golden glow of sunrise; a warm, iridescent light that spreads through the park and signals for the diurnal creatures that they are back in the relative safety of daylight.
Rich yellows, reds, and oranges catch the mists above the Zambezi and bathe the park in an otherworldly radiance.
Then there's the afternoon light; spectral, filtered through the canopies of the large Faidherbia Albida trees — it gives off a surreal quality.
It's the kind of light you'd expect to float through a stained glass window in a monumental cathedral, bathing the wildlife below in prismatic splendour.
The blue light of late afternoon gives way to the softer tones of dusk; resplendent rays catch dust kicked up by herds of buffalo and other antelope.
Tangerine-tinted air starts to cool, and the animals of the day start to settle down for an anxious night. The call of a fiery-necked nightjar signals the dipping of the sun; it's new moon — a black night — perfect for predators.
The richness and diversity of wildlife
A successful safari in Africa isn't limited to ticking off the Big 5 or seeing a predator on a kill, it's about so much more; the big, the small, and how they are all intricately connected.
It starts on ground level. The soil in Africa is bursting with life and if you take the time to look closely, you'll be transported to a whole new mini world.
From the craftiness of the antlion, who digs a trench to trap its tiny quarry and the strength of the dung beetle rolling his new family home across the dry river bed, to the poise of a dragonfly alighting on the end of a dewy piece of grass — Mana Pools has an abundance of insects that'll keep even the most ardent critter fan busy.
When you visit Mana Pools, you'll never be without some kind of birdsong, and with nearly 400 recorded species of bird in the park, that's hardly surprising.
Birders travel to Mana Pools from all over to see much sought-after bird species such as the African skimmer, long-toed lapwing, Pel's fishing-owl, Rufous-bellied heron, carmine bee-eater, and black-winged stilt among many others.
Then there's the wildlife that we all know and love: the antelope species, big cats, primates, and almost everything else in between. There's no shortage of wildlife numbers and variety in Mana Pools.
In fact, it has the highest concentration of hippos and crocodiles in the country, over 16 000 buffalo, 12 000+ elephants, and one of the healthiest African wild dog populations on the continent.
It is missing only one of the Big 5, the black rhinoceros, and offers rare opportunities for sightings such as the brown hyena, aardvark, and honey badger.
Elephants that defy gravity
Mana is known all over the world for its elephants; with such a high population of the colossal pachyderms within the park's bounds — visitors are guaranteed some of the world's best elephant encounters.
The guides in Mana Pools are experts at getting guests close to these incredible creatures, and their tolerance of humans allows for unbelievable photo opportunities.
It's not just their abundance and lack of aggression that makes Mana Pools' elephants clear favourites, it's their apparent ability to defy the laws of gravity.
In the dry season, many of the lower, easy-to-reach vegetation has been stripped from bushes and trees all over the valley floor.
A small number of Mana's elephants have developed a solution to this problem, one that many people see as a near-impossible ability for a creature of such magnitude.
What's left of the succulent branches of the Faidherbia Albida (or winter thorn and apple-ring acacias as they are often called) are far out of reach for even the largest of the park's mammals.
However, gazing at the delicious treats above, Mana's elephants have learned how to gather their weight below, and heave themselves up onto their back legs. This allows them to extend their reach and gives them access to the lush foliage at the top of the trees.
This is a behaviour unique to Mana Pools, and to witness it from a few metres away will leave you breathless, and in awe that these animals can so seamlessly lift their huge expanse. Like much else in Mana Pools, it's a truly magical experience.
— rhinoafrica
Related Topics