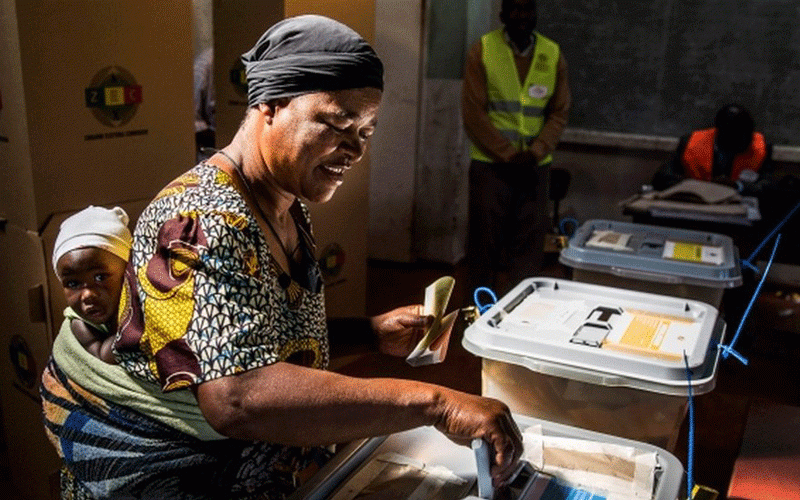 IN our Election Watch 5/2022 of November 17, 2022, we looked at the circumstances in which general elections can be held early.
We said that if the Senate and the National Assembly, sitting separately, were to resolve by two-thirds majorities of their total membership that Parliament should be dissolved, then the President would be obliged by section 143(2) of the Constitution to issue a proclamation dissolving Parliament.
In that event, in terms of section 158(1)(b) of the Constitution, a general election would have to be held within 90 days after the last resolution was passed.
When we issued that bulletin, we thought an early election was unlikely, but recent events suggest we may have been wrong.
There are straws in the wind which may point to an early election.
Fast-tracking of government business in Parliament
On Tuesday, at the request of the Minister of Justice, Legal and Parliamentary Affairs, the National Assembly resolved to suspend its standing orders for a week so that government business could be fast-tracked through Parliament.
Government may be trying to get important Bills through Parliament quickly so that Parliament can close for an early election.
Some of the Bills could be seen as strengthening the ruling Zanu PF party's control grip on society in advance of an election: the Private Voluntary Organisations Amendment Bill and the "Patriot Bill", for example.
Delimitation problems
To say there have been problems with delimitation is putting it mildly.
The preliminary delimitation report that was presented to the President on December 26was deeply flawed, as we pointed out in our Election Watches 1/2023 and 2/2023 and as Parliament pointed out in its report to the President (see Election Watch 4/2023).
No one seems to like the report, except perhaps Zimbabwe Electoral Commission (Zec) chairperson Justice Priscilla Chigumba and her deputy, Rodney Simukai Kiwa.
The chairperson has said her staff are working overtime to rectify the faults in the report, but the faults are so fundamental it is unlikely that a proper delimitation report can be prepared and published in time to be used for the next general election.
As we explained in our earlier Election Watches, delimitation must be completed at least six months before polling day in an election if it is to be used for that election (section 161(2) of the Constitution) and — unless Parliament is dissolved early — the next general election must be held between July 28 and August 26 this year.
So if this delimitation report is to be used in the mid-year election, it must have been published between January 28 (for an election held on July 28) and February 26 (for an election on August 26).
The report is already too late for a July election, and the deadline for an August election is fast approaching and probably cannot be met.
There is another factor militating against early completion of the final delimitation report.
Seven Zec commissioners apparently dissociated themselves from the preliminary report and said that a proper delimitation should be conducted after this year's elections — implying that the elections would have to be held using existing electoral boundaries.
Those seven commissioners are unlikely to agree to a final delimitation report based on the flawed preliminary report, but their votes will be needed for Zec to approve the final report — Zec has only nine commissioners altogether, including the chairperson and deputy chairperson.
If the seven commissioners cannot agree to a final report, then it will be impossible for Zec to meet any deadline, however long.
If a final delimitation report cannot be produced in time, and existing electoral boundaries remain in place, an early election will be easier to arrange because it will not be necessary to reorganise and relocate polling stations, constituency centres and so on.
When could an early election be held?
If government and Zanu PF do decide on an early general election, the date on which it can be held depends on when Parliament passes the necessary dissolution resolutions and when the President, in response, publishes a proclamation calling the election in terms of section 38 of the Electoral Act.
The resolutions could be passed as soon as the Senate and the National Assembly have completed all outstanding government business, perhaps at the end of next week.
After that, section 158(1)(b) of the Constitution gives the President 90 days within which to publish a proclamation calling the election, but we may assume he would do so immediately the resolutions are passed or within a few days afterwards.
The President's proclamation fixes the dates for the nomination of candidates and polling (i.e, voting) in the election:
Nomination day must be between 14 and 21 days after the publication of the proclamation,Polling day must be between 30 and 63 days after nomination day.
So polling day in an early election will have to be between 44 and 84 days after the proclamation is published.
Conclusion
All this is speculation and no one in government has suggested that elections should be held early.
Nevertheless, politicians and the public should be alert to the possibility.-Veritas
Renewed interest in Zim agric, mining sectors drive market capitalisation
THE year 2022 was challenging for investors due to several factors such as rising inflation, interest rate hikes and geopolitical tension, leading to market volatility and uncertainty across different stock markets.
From a global economic perspective, the conflict in Ukraine led to price hikes, which added to inflation concerns at the beginning of the year.
In response, most central banks were on their toes trying to contain the rising inflation through interest rate hikes.
In the period under review, growth was slowing and economies like Europe were at risk of being pushed to the brink of recession due to their proximity to the conflict between Russia and Ukraine, but more precisely due to the region's great dependency on Russia's energy resources.
In Zimbabwe, the economic situation was challenging due to a combination of factors such as inflation, exchange rate instability and incessant power cuts among others.
However, the country has made some tremendous progress in stabilising the economy in recent months.
In terms of the capital markets' performance, the Zimbabwe Stock Exchange (ZSE) has seen growth in activity in recent months.
The market capitalisation of the ZSE grew by 55% over the past year largely driven by renewed interest in the country's agriculture and mining sectors.
However, the ZSE remains relatively small and illiquid compared to regional peers and, as such, it can be highly volatile.
The number of companies listing on the Victoria Falls Stock Exchange (VFEX) continues to grow as the year 2022 saw the migration of two companies, National Foods and Simbisa, from ZSE to VFEX.
Other additional instruments, like depository receipts by Nedbank Group Limited and the Karo bond, also listed on the bourse in the year under review.
We think more is yet to come and this will vastly improve activity and the exchange's liquidity.
Despite a challenging economic situation in Zimbabwe, we remain resolutely optimistic.
We expect the country to continue making strides towards stabilising the economy and attracting investment.
As such, we believe that the Zimbabwean capital markets offer attractive opportunities for investors with long term investment horizons and to those willing to take high risk in exchange for potentially higher returns.
We strongly recommend that investors conduct thorough research before making any investment decisions.
Akribos remains dedicated to guiding you through this process and helping you diversify investments in order to mitigate risk.-Akribos
Prices of basic food basket higher in 2022 than previous year
THE cost of the basic food basket in Zimdollar terms in rural markets increased by 10% compared to the previous month, yet remains 483% higher than a year ago.
In United States dollar (US$) terms, the average cost increased by 2% over the reporting period and increased by 7% compared to the same time last year.
The price increase in US$ terms could be partially attributed to an increase in energy tariffs (both fuel and electricity) as well as an increase in demand during the holiday season and ongoing power outages which impacted on the cost of production (Consumer Council of Zimbabwe (CCZ).
Maize grain availability at 4% remains low and is similar to same time the previous year.
The commodity was selling at an average of $275,02/kg compared to $239,92/kg in November an increase of 15% and increased by 402% compared to December 2021.
The US$ price of US$0,29/kg is stable compared to November but 7% higher when compared to December 2021.
Unrefined maize meal availability was 55%, representing 34 and 5 percentage points decrease when compared November 2022 and December 2021, respectively.
Unrefined maize meal was selling at an average of $463,02/kg which is 9% higher than November 2022 and 530% higher than the same time the previous year.
The US$ price of US$0,53/kg is 7% and 13% higher than November and the December 2021, respectively.
Sugar beans availability remained stable at 63% of the monitored markets compared to the previous month and year.
Sugar beans was selling at an average price of $1 728,93/kg which is stable when compared to November 2022 and 336% higher than same time last year.
The US$ price of US$2,03/kg was 4% higher than the previous month and 7% lower than same time during the previous year.
Vegetable oil was available in 95% of the markets which is comparable with the previous year (98%) and 27 percentage points higher than November 2022.
In Zimdollar terms, the commodity was selling at an average price of $2 179,15/L, 11% and 666% higher than the previous month and same time previous year.
The US$ price of US$2,42/L, 2% higher than November 2022 and a 7% increase on a year-on-year basis.-World Food Programme
Related Topics