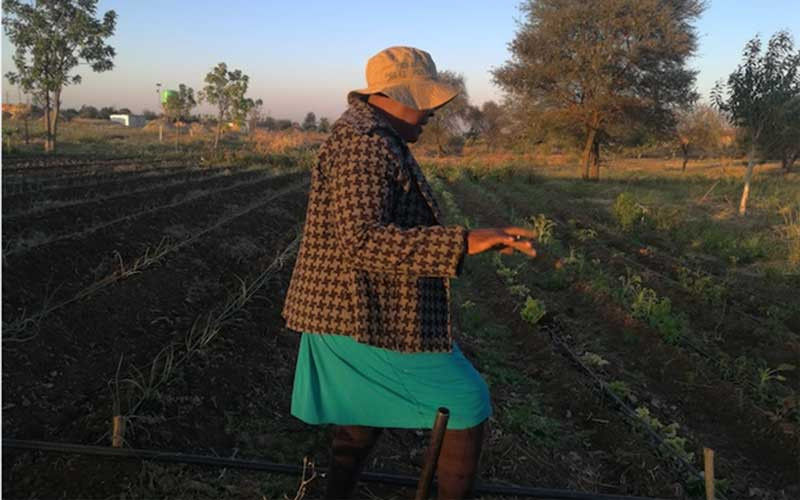 It's a typical story in Bulawayo, Zimbabwe's second-largest city. With the failure to provide services such as refuse collection by the local municipality, township residents dump garbage wherever they fancy, and with time, dumpsites become "official".
For 56-year-old Mariyeti Mpala, however, a community dumpsite on land that belonged to the local municipality a stone's throw away from her residence presented an opportunity to turn what had become an accepted eyesore into a thriving greening project.
She purchased the land in 2006, and it is here on a section of the former dumpsite where she has grown indigenous wild fruit trees at the one-hectare piece of land and runs a thriving vegetable garden.
She rotates planting tomatoes, peas, cabbages, onions and lettuce, with aquaculture being the latest addition to her project.
"I have put up three thousand bream fishlings," Mpala said as she explained her long-term ambitions for the local community.
"I decided to apply for this piece of land as it was clear no one imagined the land was of any use as it was being used as a dump site," Mpala told IPS.
While she may not be aware of it, Mpala's project fits snugly into the UN's Food and Agriculture Organisation (FAO)'s Green Cities initiative, which among other things, "focuses on improving the urban environment, ensuring access to a healthy environment and healthy diets from sustainable agri-food systems, increasing availability of green spaces through urban and peri-urban forestry."
"Urban agriculture is, therefore, an important part of the urban economy contributing significantly to urban food and nutrition security as the produce is less subject to market fluctuations," said Kevin Mazorodze, FAO spokesperson.
And now, as more and more people in the country require food assistance, Mpala's project comes as a relief for members of her community.
"I especially cater for the elderly who have no source of income and cannot fend for themselves," Mpala told IPS.
"I sell some of the produce at low cost to those elderly women who buy in bulk so they can sell at a markup, so they raise funds for their own private needs," she said.
FAO's Green Cities Initiative seeks to promote more such activities, said Mazorodze.
"Urban and peri-urban agriculture is one of the key pillars of the initiative through which FAO intends to foster sustainable and climate-resilient practices and technologies to improve local food production," Mazorodze told IPS.
Mpala sunk a borehole powered by solar energy in a country where abundant sunlight has been touted to promote clean energy.
Her work has not gone unappreciated by locals.
"She is a hard worker and has always looked out for us old people," said Agnes Nyoni, a 70-something-year-old granny who lives not far from Mpala's green project.
"I first knew her a few years ago when she collected our names to register for food parcels that included mealie meal, cooking oil and beans," Nyoni told IPS.
Mpala's work has also reached city offices, with the local councillor lauding her contribution towards uplifting the lives of the poor and food insecure.
"We actually need more of such initiatives being done by Mpala as she is uplifting the lives of our people," said Tinevimbo Maphosa, the local councilman.
"I understand she has also set up a fisheries project which I see as a sign of her community-building commitments. People need to be productive and stop complaining all the time about the situation in the country, and Mpala's work is part of what we need to see happening in our communities," Maphosa told IPS.
The city already has numerous community gardens dotted across the city, with FAO supporting the municipality through the Green Cities Network.
The food she grows is organic, Mpala says, and local nutritionists believe at a time, food is becoming more expensive, and where people now eat whatever is available, consumers need healthier diets.
"Food grown in such nutrition gardens as that run by Mpala is encouraged because it is fresh straight from the garden, and the elderly people she caters for certainly need healthier diets," said Mavis Bhebhe, a government hospital nutritionist.
"What is required is to encourage such initiatives to spread the variety of the food they grow so that consumers get the most out of locally grown foods," Bhebhe told IPS.
These sentiments come at a time when humanitarian agencies have raised concerns about levels of malnutrition across Africa as some parts of the continent battle acute food shortages.
In a country such as Zimbabwe, where formal jobs come far in between, homegrown initiatives such as the Dingindawo Gardens offer hope for young people seeking opportunities to take idle time off their hands, Maphosa believes.
"There is too much crime and drug abuse here, and with more projects from individuals like Mpala, we could solve the community's many problems," Maphosa told IPS.
— IPS
Related Topics