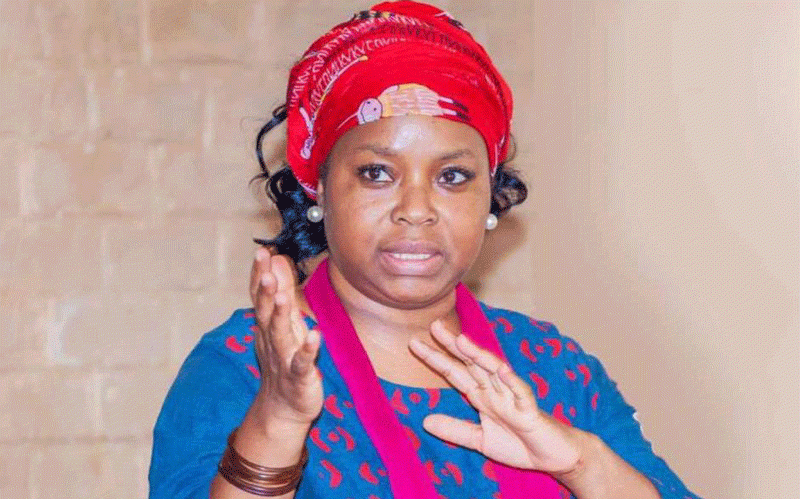 Veteran journalist and media development and rights activist Rumbidzai Abigail Gamanya, who succumbed to pneumonia at Dandaro Hospital in Harare on October 10, 2022 was a much loved and respected professional and leaves a void hard to fill.
Her outstanding career spanned more than 25 years and she died at the age of 49. Abi, as Gamanya was fondly known, touched everyone who knew her and her warmth and wisdom will be greatly missed by friends, relatives and all those who worked with her
Since the announcement of her shocking passing on was made, it has become apparent, particularly to those that did not know Abi personally or closely follow her professional advancement over the years, that she was more than a media icon. Abi was a gender equality advocate, whose strategic thinking and mentorship went beyond the media sector to the broader women's rights movement.
Media freedom fighter
One thing about Abi — she was not afraid to take up a challenge including leadership roles. Over the years, she has been one of the people in the forefront of the media's push for an independent, diverse, and plural media environment in Zimbabwe and beyond.
My first interaction with Abi in this role was when she was a board member of the Zimbabwe Chapter of the Media Institute of Southern Africa (Misa), then led by the late Thomas Deve. At that time I was young, raw and eager to learn, and I did from a firebrand crop that set a strong media freedom agenda which still remains relevant, albeit a number of gains have been realised.
Over the years Abi took up other leadership roles in organisations set up as part of the media sector's reform agenda. Abi was the first coordinator of media freedom advocacy network, the Media Alliance of Zimbabwe (MAZ) and later its Vice Chairperson in 2019.
In her coordinating role at MAZ, she was one of the key persons in the establishment of the self-regulatory body, Voluntary Media Council of Zimbabwe (VMCZ). She stood bold at the time, speaking against statutory regulation and the now repealed, overarching law governing the industry at the time, the Access to Information and Protection of Privacy Act (AIPPA). Abi called a spade, a spade boldly calling out the Zimbabwe Media Commission, as being the main weapon that was used to repress the media.
All this was happening in a dual role to her position as Director of the Gender and Media Connect (GMC). GMC was born after Abi facilitated and led the rebrand of the Federation of African Media Women Zimbabwe (FAMWZ) in a bid to broaden the work of the organisation to include broader women's empowerment work.
With the coming of the Government of National Unity (GNU), Abi was to leave the sector to work in the late Prime Minister Morgan Tsvangirai's office as Principal Director. Media advocates have acknowledged the role played by Abi in influencing the decision to include journalistic and media rights in the 2013 Constitution of Zimbabwe because of her position at that time.
Her leadership role went outside our borders. At the time of her passing, Abi was the Zimbabwe National Coordinator of the Swedish International Development Agency funded International Training Programme (ITP) on media development. ITP brings together media stakeholders across five African countries by creating a platform for dialogue and engagement between state and non-state media actors as part of efforts to improve the legal and policy environment in Zimbabwe.
Sisters' keeper and mentor
For us, female journalists in Zimbabwe, Abi was more than a mentor; she was a sister. One, who stood with us, spoke on our behalf, fought for us, mentored, and supported us as individuals in and across our respective newsrooms.
As far back as her days as FAMWZ Director, Abi's drive and willingness collaboration with other media groups including the Zimbabwe Union of Journalists (ZUJ) and Gender Links Southern Africa for gender equality in the newsroom, saw the adoption and monitoring of the implementation of gender policies across national and community media houses across the country.
These gender policies, not only dealt with the need for equal opportunities for female journalists in the industry, but also define and outline procedures to deal with sexual harassment in the workplace.
For years Abi, was the face newspaper editors had to contend with when reports of sexual harassment surfaced as she sought for recourse on behalf of victims. During last year's 16 Days of Activism Against Gender Based Violence, Abi emphasised the need for continued work against sexual violence in the newsroom.
"It is hard to be a female journalist in Zimbabwe and everywhere else in the world. To many this might sound like an overplayed song -a cliché, but we need to reflect on the landmines set in the media and in the society that make this job so hard for us," she said.
As one of Abi's mentees, it has been amazing to see via the posts on her Facebook page how many of us cite her as having been instrumental in our careers from novices to mid-career and senior journalists.
Abi supported and encouraged female journalists to claim their space and be recognised nationally, regionally and globally. In a tribute message shared on her social media, Zimbabwe Independent editor Faith Zaba, announced that Abi was behind her nomination for the 2022 Laureate for Africa award she had received in September at the WAN -IFRA's World News Media Congress in Zaragoza, Spain.
Few of us, including male journalists, did at one point or the other interact as a trainer or facilitator of programmes to mainstream gender and development in our reportage or research.
Women rights and empowerment advocate
During her tenure, GMC morphed into a more dynamic organisation moving from mere gender and media policy advocacy, empowerment, and advancement of female journalists to visibly occupying a critical space in the women's movement.
GMC signed a Memorandum of Understanding (MOU) with the Parliament of Zimbabwe through the Zimbabwe Women Parliamentary Caucus which has seen the organisation coaching women parliamentarians to engage with media and increase their visibility on alternative media platforms.
During the last election in 2018, GMC took a stand to facilitate the inclusion of voices of ordinary women in the coverage of the polls. This was done through the launch of a mobile app, SpeakZW that saw women share their experiences.
At the same time national training workshops were conducted to, not only familiarise the media on how to use the app as a resource, but emphasise the important role that the media plays in ensuring a safe space for women to participate in electoral processes.
In Shona there is a saying that one is only good when they die (munaka ndafa). While this may not fully apply to Abi, one thing that is certain is that it took her departure for us to acknowledge what a force she was.
Abi was humble, acknowledged her gaps and showed up to not only share her experience, but to learn from others, if she was not roping them in to build on her ideas. So much done, so little time for us to pause and appreciate! Yes, Abi is gone, but she leaves a legacy, so maybe, just maybe it is not goodbye after all. Rest in Peace.
Koliwe Majama is a media, communications, public policy and governance professional.
Related Topics