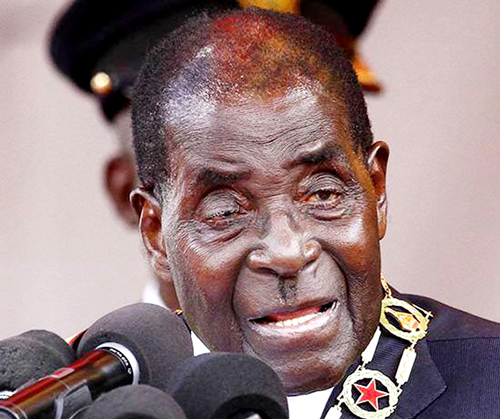 Chitungwiza MP Alexio Musundire (MDC-T) claims he has observed strange people tracking him following his decision to sue President Robert Mugabe challenging the legality of the Unity Day holiday and Zanu PF's monopolisation of the National Heroes' Acre.
BY OBEY MANAYITI
Musundire, United Kingdom-based lawyer Tinomudaishe Chinyoka and Coliwe Mufaki, in January this year took Mugabe to the Constitutional Court challenging government's decision to declare December 22 a public holiday.
They said this was improper, as the unity being celebrated was between two political parties, PF Zapu and Zanu, hence it was discriminatory.
Chinyoka also filed another application contesting Mugabe's continued stay in power despite his poor health.
Musundire said he had no choice but to take extra precautionary measures out of fear those snooping on his family might pounce one day.
"There are a lot of unmarked vehicles and unfamiliar faces coming into my neighbourhood. Those same faces are seen hovering around my family to the point that even my children can identify them," he told NewsDay recently.
"This started happening soon after our second application, which is over Unity Day. The situation has been made worse by the competency application by Chinyoka. But in that application, I am not an applicant.
"It is part of the struggle, but my family is living in fear now. I have taken precautionary measures so that they are not harmed. However, I don't regret the applications. My conscience is clear on these issues and you cannot have a situation whereby resources from the fiscus are used by a single political party."
Chinyoka told NewsDay recently that in his competency application, papers meant for Mugabe reportedly disappeared in the sheriff's office and he had been asked to check with the Bulawayo office.
"We are hoping that the papers have, in fact, not been misplaced, but they are telling us it was all due to an administrative faux pas," he said.
"But in the event that they are not served and this claim is maintained, we will reserve all options including, but not limited to, taking the sheriff to court to force him to do his job. Those who stand on the side of justice can be frustrated, but not deterred. We will prevail."
The government has reportedly been notorious for clamping down on its critics.
Last year, human rights activist, Itai Dzamara, was allegedly abducted by suspected State security agents, while another fierce critic who sent Mugabe some prison garb as a birthday present, Nkosilathi Emmanuel Moyo, has reportedly fled the country as State security agents hounded him over his "present" to Mugabe.
Dzamara is yet to be accounted for more than a year later.
At the end of last year, some MDC-T legislators received threatening messages from an unknown number, as Mugabe prepared to officially open Parliament.