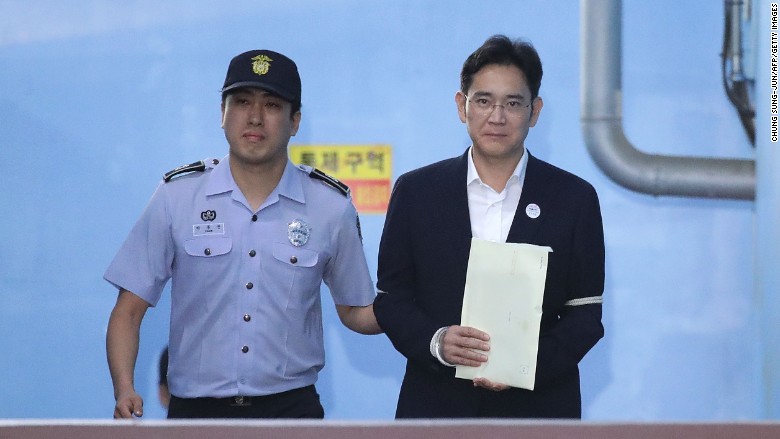 Jay Y. Lee is set to spend the next five years in prison, one of the harshest sentenceshanded to a South Korean chaebol executive, after a court convicted him of bribing his way to greater control of the Samsung empire his family founded.
Bloomberg
The trial, part of a bigger corruption scandal that brought down South Korea's president, transfixed the nation as it shone a spotlight on the close ties between chaebol business groups and the political elite. Prosecutors had sought 12 years in prison for the 49-year-old billionaire, whose lawyer said he would appeal. Any sentence of more than 3 years can't be suspended.
The judgment reflects a greater willingness by South Korea to break the ties between the wealthy and those in power. In the past, a long list of business leaders, including Lee's father, were convicted for corrupt behavior only to be let off easy. The younger Lee is unlikely to enjoy such leniency. The Samsung scion, who golfed and traveled extensively to foster ties with tech executives, mostly kept a blank expression as the verdict was read.
"It's shocking that the disease of political-business collusion between Korea's most powerful person, the president, and a conglomerate is not a thing of the past but still continuing," presiding judge Kim Jin-dong told the Seoul Central District Court on Friday. "It will be hard to recover from this loss of faith. The fact that the defendants were executives who represented Samsung Group makes the influence on the society and economy hugely adverse."
Lee was convicted of all five charges he faced, including allegations of embezzlement.
While the ruling casts doubt over Lee's return to the conglomerate his grandfather founded almost 80 years ago, the business is doing well, with Samsung Electronics Co. posting record earnings and its shares rising 30 percent this year, outperforming the benchmark Kospi.
For other chaebol leader convictions, click here
Controlled by the Lee family through a web of cross-holdings, Samsung is South Korea's biggest conglomerate, comprised of about 60 units selling life insurance, cargo ships and clothes. The empire has a market capitalization of about $395 billion, and Samsung Electronics makes up most of that. It is the world's biggest maker of smartphones and memory chips, with customers including Apple Inc., Wal-Mart Stores Inc. and Microsoft Corp.
The guilty verdict immediately removes the public face of Samsung, which could make it harder for the company to do business in some cases, according to Paul Swiercz, professor of management at George Washington University.
"It will be more difficult for Samsung to negotiate the transnational deals with its present and future global partners," Swiercz said.
Along with Lee's sentencing, several former executives were convicted Friday. Former Samsung Corporate Strategy Office chief Choi Gee-sung and former President Chang Choong-ki were each sentenced to four years in prison, while two other executives got suspended prison terms.
For Gadfly's take on succession at Samsung, click here
The younger Lee's absence could lead to further empowerment of managers such as Vice Chairman Kwon Oh-hyun, who oversees semiconductors; President J. K. Shin, who is in charge of mobile products; and President Yoon Boo-keun, who runs the consumer appliances business.
Through hundreds of hours of testimony from dozens of witnesses, prosecutors sought to draw a link between backing from a state-run pension for a contentious 2015 merger of Samsung affiliates and money paid to a confidante of then President Park Geun-hye, including an $800,000 horse for the friend's daughter.
Lee, choking back tears at times, testified that he knew little about Samsung affiliates other than the electronics business, and that he wasn't part of the approval or decision-making process.
A divide in public opinion was on display outside the courthouse as protesters from both sides gathered and waved placards supporting their views.
"This will also help break ties between politicians and chaebol businessmen," said Kim Young S., 70. "The decision, proves we live in a society governed by law, that we'll be punished if we do something wrong no matter how rich or powerful."
Nearby, Hwang Seon Hee, 59, said: "It was a complete sham. I'm really disappointed by the decision. Lee should be pardoned."
Jay Y's father Lee Kun-hee received a suspended three-year prison sentence for evading taxes. He was later pardoned by then-President Lee Myung-bak.
Prosecutors made the case that Lee and former President Park Geun-hye conspired to get a state-backed pension fund to support the 2015 merger in return for financial favors, including the horse.
After Park was impeached and ousted, the new administration of President Moon Jae-in swept into power on pledges to reshape the country to benefit individual Koreans. That includes higher taxes and regulation of the chaebol that dominate the nation's corporate landscape.
On social media, there was a greater outcry, with many saying that the five-year sentence was too lenient. One commenter, @moonlover333, tweeted: "What?? Only five years…"
— With assistance by Kyungji Cho, Min Jeong Lee, and Kanga Kong